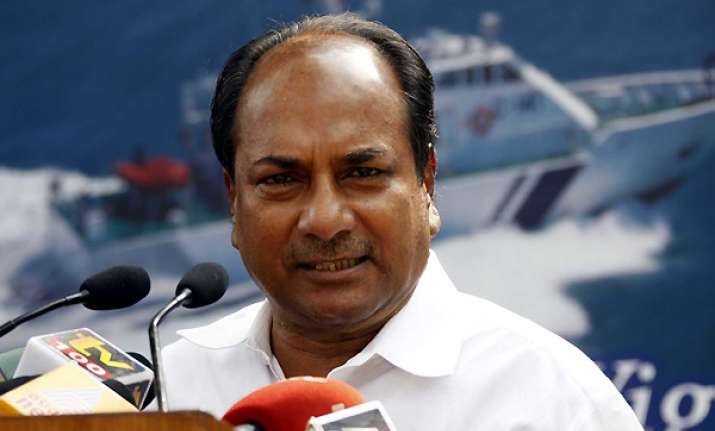 Visakhapatnam, Apr 4: Defence Minister A K Antony today termed as "absolutely baseless" fears of any coup attempt by the armed forces and expressed confidence that they will not do anything to undermine democracy.
"Absolutely baseless. Army has already explained this. It is usual, natural activities. Nothing unusual. We are absolutely confident of the patriotism of the armed forces.  Don't question their patriotism. They will not do anything to undermine Indian democracy," he told a press conference here.
He was replying to a question about an 'Indian Express' report today that there was an unusual movement of two key army units towards Delhi without notifying government on the night of January 16-17, the day Army Chief Gen V K Singh moved the Supreme Court on the age issue.
The questioner told him that the report raised considerable alarm and fears of a coup and whether the government was afraid of such a possibility and what did it do. Would he rule out the possibility of a coup.
Antony said the armed forces personnel were "true patriots" and "don't question the patriotism of the soldiers who are dying in the frontiers of the country." "I am proud of the Indian Army, Navy, Air Force and the Coast Guard," he said.
He also urged the media not to lower the dignity of the armed forces on issues of national security.
"I have a humble request to make. Issues like these affecting national security, Indian armed forces, we cannot make the luxury of these controversies which damage the honour and dignity of armed forces," Antony said. 
He said, "India is a democracy. India will continue to remain a democracy. Indian armed forces will do everything to strengthen our national interest and they will be part of our democratic government. Please do not expect anything like this to happen anywhere else".
Expressing complete faith in the armed forces, the Defence Minister said, "We have fullest faith in patriotism of the Indian armed forces and they will not do anything to weaken or undermine Indian democracy."
When asked when was the last time that such a movement took place, he said, "The army has already explained their position and I do not want to say beyond that. We endorse that."
Asked about the report which said the Defence Ministry was not informed of the army movement and that indicates a communication gap, he said, "There is no communication gap between the functioning of the armed forces and MoD."
He said, "Nothing is wrong in relation between the armed forces and MoD. I am very comfortable with the chiefs (three service chiefs). Sometime they think they need more and we are trying to give them more support. But it is not a fight."
The Defence Minister said, "The Prime Minister is the ultimate arbiter and he will take the ultimate decision.  Cabinet will take decision and in between there are process.  When the demands will come is it a confrontation, it is a healthy thing."
He said he is comfortable with all chiefs of armed forces specially with three service chiefs officially and personally also.
"No one should try to create a rift between all of us. It would not succeed. We will work together in the future also."
When asked whether DG, Military Operations, was summoned by the Defence Secretary, he said, "I am telling you the end result. There will be always discussion and occasionally they are meeting and discussing but ultimately I am telling that there is nothing like that."
"It is baseless. Between the ministry and the minister there is no communication gap. There is no trust deficit and I have full faith on them and we are working together," he said. 
"As a Defence Minister I will demand more money for my ministry but is it a fight with the Finance Ministry?" Antony asked.
"Yesterday, we had the DAC (defence acquisition council) meeting. We decided to demand more money for the capital budget and revenue budget for this year and for the more years to come.
"We have finalised our annual plan proposals and the LTIPP (long term integrated perspective planning) for 2012 to 2027 and we are going to demand more money. We have to revisit the recommendation of the Financial Commission considering the security scenario around us. If we want to protect our national interest and security we must spend more on defence.  But is it a fight with the Finance Ministry and the government?" he asked.
Praising the Finance Ministry, Antony said, "Armed forces will request more for budgetary allocations... there was 18 per cent increase (budget allocation). I do not think Finance Ministry was unfair. But they have their limitation and we have our requirement."
Describing the security scenario around the country as "volatile", he said, "We want more because security scenario around us is volatile so we have to spend more money on our defence forces. Is it a confrontation?" he asked while maintaining that "there is no confrontation with the government."
On the BJP's demand for his resignation, he said, "They are an opposition party. Service chiefs writing letter to PM and Defence Ministry is not unusual. It happens many a time.  It will happen in future also. It is their duty.  But this time the letter was leaked. It is unfortunate and we are inquiring into that. We have entrusted the task to IB and let us get the report.
Asked about the report that IB has given a clean chit to the Army Chief, he said "I have no bias. I have not seen the report. We are a democratic country. So let us see everything".