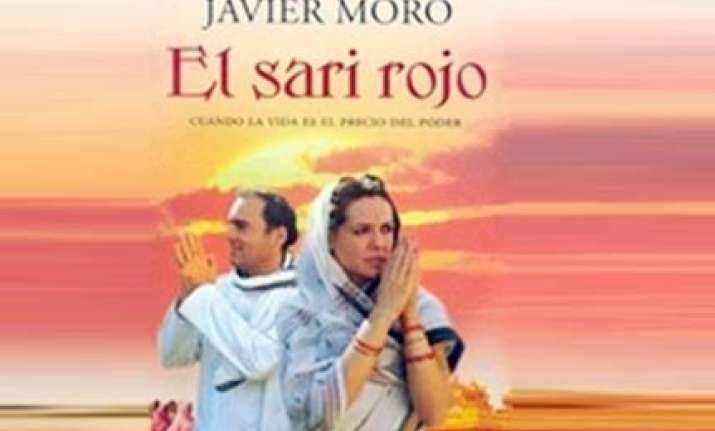 A book on the life of Congress president Sonia Gandhi named  El Sari Rojo (The Red Saree) is selling briskly in bookshops in Spain, Italy and Latin America, reports Hindustan Times.  
 Written by Spanish writer- journalist Javier Moro, The Red Saree, is a "fictionalised biography" of Sonia Gandhi that charts her early life in Italy, her years as a student in England, her meeting Rajiv Gandhi, and ultimately her role as one of India's most powerful political lead- ers.
Speaking over the phone from Spain, Moro told Hindustan Times that his purpose of writing The Red Saree was to write about Sonia Gandhi's "destiny" and "to try and follow the transformation" of a young woman from a humble background in Europe into a powerful leader of a country of a billion plus people".
Moro's research included speaking to people who knew Sonia and the Maino family in Italy along with her Cambridge University friends.
During his research, he did not speak to Sonia Gandhi or any member of her family. "I tried several times to get in touch with Sonia during my research. But it was in vain," said Moro.
"Then, before the book went to print in Spain [in October 2008], I tried again to hand her a manuscript so she could have it read by her sister Nadia [who is fluent in Spanish] and make all the amends she felt necessary. I never got a reply."  
In November 2009, Moro had approved of an English version of his book and wrote to Sonia Gandhi's office asking if she would like to "check on it".  
He was "surprised" to find that her office had already read an English translation of The Red Saree. He was sent a note after which he received emails from lawyer and Congress spokesperson Abhishek Singhvi warning him of committing "penal offences".
Sonia Gandhi has not commented on Moro's book.  
When contacted, Abhishek Singhvi, who is dealing with the book, initially refused to comment. But when pressed, he said that "the versions [of Moro's book] in circulation are completely subjective, non-factual, imaginary and in no manner directly or indirectly authorised or accepted by the subject of the book or by any member of the family".
Moro insists that Sonia Gandhi's lawyers "have not understood the genre" of his book. "I accepted the insertion of a disclaimer that says it is a fictionalised version of the Sonia Gandhi story. Yet, at the time of formalising an agreement, they added more demands that made it impossible for me to sign it... Among others, that I should not be allowed to sign the movie rights of the book. It's too late, the rights have already been sold."
"We know our legal rights and Mr Moro and his publishers should know that we know our legal rights and what they are," Singhvi said emphatically.
The Spanish editions of The Red Saree have already sold more than 2,50,000 copies worldwide with good sales in Italy. French and German editions are in the pipeline.
Moro's previous books include Five Past Midnight in Bhopal (2001) on the Union Carbide gas tragedy that he collaborated with French author Dominique Lapierre, and Passion India (2007), a fictionalized biography of Anita Delgado, the Spanish flamenco dancer who married the Maharaja of Kapurthala.