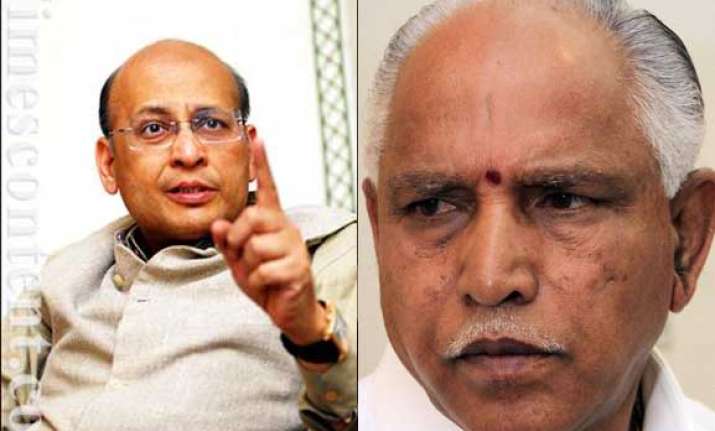 New Delhi, Jul 21:  Congress today mounted pressure on Karnataka Chief Minister B S Yeddyurappa demanding his resignation in the wake of the Lokayukta report indicting him and his ministers in the illegal mining scam. 

"...Immediate resignation of the Chief Minister should be the starting, of every other minister should be the starting point. The state should call for and give consent for a CBI enquiry," Congress spokesperson Abhishek Singhvi said here.

Taking a dig at the BJP, he said his party had "very little hope" on its demand as "those who believe in never doing what they say are going to remain unmoved." He said he was expecting "a sophisticated flimsy excuse" from the BJP on the issue as "those who are thick skinned preach without practice."

Union Minister Ambika Soni suggested that Yeddyurappa should quit after his indictment.

"The Chief Minister of Karnataka has had a long inning of defending himself against charges of corruption..... Now Lokayukta in his report seems to have made a very clinching set of charges against him....

"Everybody in the country now wants there should be more accountability and transparency in public life. If in such an atmospheres so serious charges have been levelled against anybody in public life, he should obviously think over it whether he can walk proudly even after all this," Soni, who is also a senior Congress leader, said.

Hegde today said he has given "substantive" and "voluminous" evidence against Yeddyurappa in the illegal mining scam which has cost the state exchequer Rs 1800 crore in a period of 14 months.

Soni said she feels that the Karnataka Chief Minister had got a chance to defend himself and has already spent a long time defending his government against the allegations of corruption from various quarters.

The Union Minister, however, refused to comment on Hegde's allegations that his phone was being tapped, saying the concerned authorities will take a call on the issue.  Soni also dismissed suggestions that the Lokayukta's report indicting the Chief Minister for illegal mining justifies the demand to bring the Prime Minister under Lokpal's ambit.

"Please do not link incidents with issues that have already been debated in the country. The debate is going and Parliament will take a final call on it (the issue of bringing Prime Minister under Lokpal)," she said. 

The Union Minister refused to comment on the probe into the cash-for-vote scam in which one of the arrested persons has dropped the names of some senior Congress leaders.  She said it was not appropriate to seek individual's opinions on the issue when legal processes are already on. 

"Let us see how it takes forward," she said, adding the Congress believes that law of the land should apply equally to all.

Earlier, another Congress spokesperson Shakeel Ahmed questioned the "silence" of senior BJP leaders at the centre over the ongoing "illegal mining" in Karnataka and alleged that was happening with their consent.

"It is now evident that illegal mining in Karnataka was continuing with the consent of top central BJP leaders and they were aware of Chief Minister's involvement in the whole episode. Without their consent, senior party leaders from the state like Dhananjay Kumar could not have gone to meet Lokayukta to request for deleting Yeddyurappa's name from the report," Ahmed alleged.
In Bangalore, Karnataka Congress  chief G Parameshwara also demanded  Yeddyurappa's resignation.
 
"All the time we have been saying that illegal mining is going on and the Chief Minister and his own Ministerial colleagues are involved," Karnataka Pradesh Congress Committee (KPCC) President, G Parameshwara, told PTI. 

"Now, the report says the government itself is involved", he said.

Former Chief Minister and JDS state chief H D Kumaraswamy and Health Minister B Sriramulu, who have also been named in the report, said they were ready to face any inquiry.

"If I am named, I am not going to run away," Kumaraswamy said, adding he is ready to face any kind of inquiry.

"Have I caused any loss to the state exchequer during my 20-month rule as Chief Minister? I am ready to give all information to the people," he said.

Hegde said he had given "substantive" and "voluminous" evidence against Yeddyurappa and others on illegal mining, which he termed a "huge racket" that had caused a loss of more than Rs 1,800 crore to the state exchequer in the last 14 months.

As the leaked Lokayukta report raised a political storm, Yeddyurappa is holidaying with his family in Mauritius.  PTI