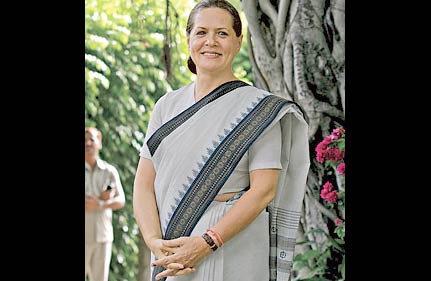 New Delhi, Nov 24 (PTI) With the JD(U)-BJP combine headed for a resounding victory in the Bihar Assembly polls, Congress President Sonia Gandhi today said the results indicated that the party will have to rebuild itself from the scratch.
"As far as our party is concerned, we did not have much hope. We took a deliberate decision not to work in alliance with other parties. Results obviously indicate that our party has to start from the scratch to rebuild itself and that is what we plan to do," Gandhi said reacting to results of the Bihar Assembly polls in which Congress has fared badly.
She also congratulated Bihar Chief Minister Nitish Kumar on the JD(U)-BJP combine's good performance.
"I congratulate Chief Minister Nitish Kumar on his success", she said.
Congress spokesperson Manish Tewary said, "We had decided to go alone to rebuild our party in the state. It was a difficult decision when we decided to go alone. By going alone the base which we had lost we would try to regain that."
Accepting the verdict, he told reporters outside Parliament, "The trends indicate that Nitish Kumar is going to become Chief Minister of Bihar again. We accept the decision of the people of Bihar."
Recalling the outcome of the UP Assembly polls, he said, "I would like to take you back to the UP elections in 2007 when the Congress went alone and did not fare well. But again like Bihar It was a beginning (to go alone).
'In 2009 general elections in UP, there was an exceptional recovery and Congress did reasonably well in the state. As earlier I have pointed out that the path of going alone is difficult."
Making it clear that it was a conscious decision to fight the elections alone, he said, "We are trying to rebuild the party after being in one alliance or another for 20 long years. So it is a difficult process we took a conscious decision to go it alone and there is no looking back.
Hoping that Congress will stage a comeback in the state he said, "Ultimately the position we have taken will stand vindicated (one day)."