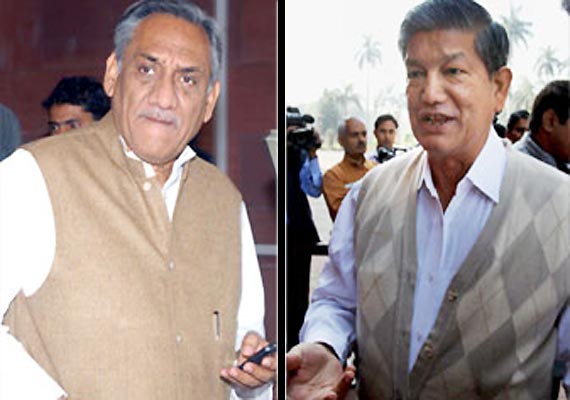 New Delhi, Mar 17: As the crisis persists in the party's Uttarkhand unit, Congress high command today assured rebel leader Harish Rawat of giving him his due but ruled out changing the Chief Minister Vijay Bahuguna.  

The name of Rawat's wife Renuka is being considered among a few others for Rajya Sabha nomination for the lone vacant seat from the hill state, AICC general secretary Chaudhary Birender Singh said.

He said the names of senior MLA Indira Hridayesh, former MP Mahendra Pal and retiring member Satyavrat Chaturvedi are also being considered for the seat.

Replying to questions, Singh made it clear that the high command was not thinking of having any Deputy Chief Minister in the state at present.

"The high command wants to give Rawat his due", but at the same time said that Bahuguna was chosen CM after due consideration.

Singh made it clear that three issues were interlinked including the election of Speaker on March 26, vote on account on March 28 and election of the Rajya Sabha on March 30, suggesting that the leadership has to devise a strategy taking this into account.

Talking to reporters in Dehradun earlier in the day, Bahuguna said that the "talks are on" to defuse the crisis in the fledgling party-led government in Uttarakhand.

Efforts to bring the warring factions continue as faces the daunting task of winning trust vote on the floor of the state assembly in the wake of revolt against his leadership.

Harak Singh Rawat, an MLA and a close confidant of sulking Union Minister Harish Rawat, an aspirant for the CM's post, denied media reports that he was being offered the post of the Deputy Chief Minister.

Yesterday, Bahuguna met Congress chief Sonia Gandhi and said he was confident of resolving all differences with Harish Rawat.

Fourteen party MLAs, said to be loyal to Harish Rawat who revolted against the appointment of Bahuguna as CM, are yet to take oath.