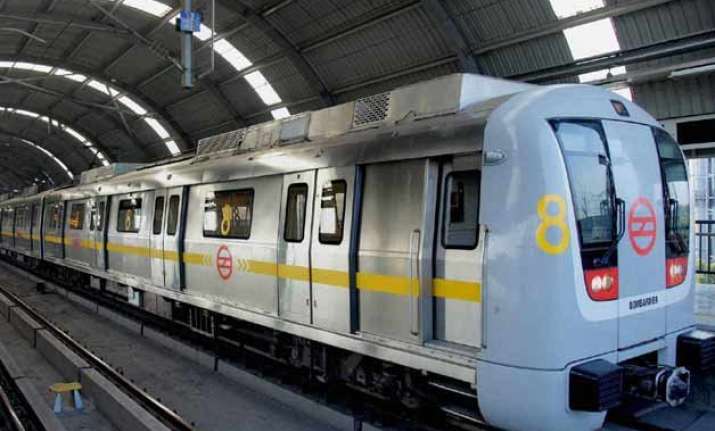 New Delhi:  With the induction of 20 trains, the waiting period forcommuters in Delhi Metro during off peak hours, 11 AM to 4.30 PM, is set to go down across five corridors including the busy Blue and Yellow Lines from next week.
Delhi Metro Rail Corporation (DMRC) is also providing 210 extra train trips one day before and on Rakshabandhan (August 28, 29) itself in view of a general trend of increased ridership during that period over the years.
A senior metro official explained that the trains being pressed into service during off peak hours from August 31 are from DMRC's existing fleet of trains instead of adding entirely new trains.
"Few trains that don't run during that period at the moment, due to various reasons including routine maintenance work, are being added to increase the frequency that generally falls during off peak hours," the official said.
New frequency of trains on the busiest corridors, namely Line 2 (Yellow Line) and (Blue Line) would be 2 mins 45 seconds and 2 minutes 47 seconds each. It would be a marginal improvement from the current figures of 3 mins 24 seconds and 2 mins 52 seconds each.
Whereas on Red Line (Line 1), trains will run every 4 mins 6 seconds instead of the present 5 minutes gap. On Violet Line (Line 6), the gap is coming down to 4 mins 12 seconds instead of the present 5 minutes.
"The above is being done in view of increasing ridership and after conducting a detailed operational and maintenance study so as to provide additional services to the commuters," a statement said.
The special arrangements for Raksha Bandhan are being made to tackle a greater rush of commuters which was over 21.8 lakh passengers last year.
"This much commuters travelled on day of Rakhi inspite of it being a Sunday, whereas average Sunday's ridership during Rakhi's month in 2014 was 18.1 lakh," the statement added.