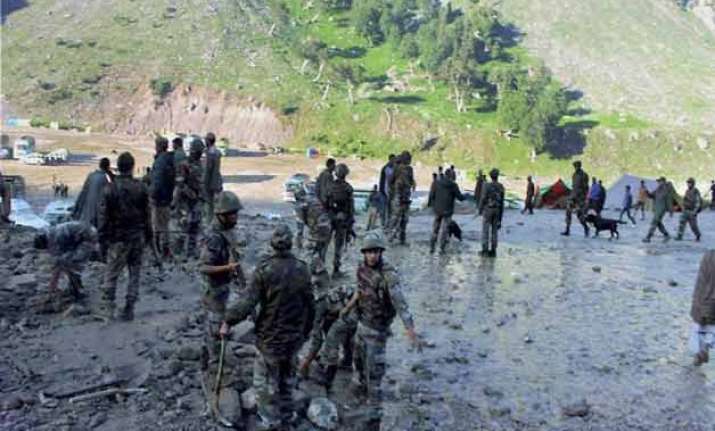 Srinagar: Three persons were killed and 19 others injured after a cloudburst struck near the base camp of Amarnath yatra along the shorter 16-km Baltal route to the cave shrine in central Kashmir's Ganderbal district, officials said today.
Two other persons are missing after the cloudburst last night. However, the yatra is going on smoothly from the arduous track along with the traditional 45-km Pahalgam route in Anantnag district, the officials said.
Authorities have allowed over 1000 pilgrims to proceed towards the shrine from the Baltal base camp.
"So far three bodies were recovered which include that of a girl, aged 13 and a boy, aged 12. At least 19 others have sustained injuries and two have gone missing," the official said.
"The cloudburst struck near the Baltal base camp and water entered some tents there," the officials said, adding those present at the camp were moved to safety after the cloudburst.
The officials said the deceased persons were not pilgrims but were camping at Baltal to earn their livelihood. The officials identified them as cobbler Deepak Kumar (35) of Delhi and shoeshiners Pooja and Vikram, both residents of Rajasthan.
In the morning, 11 persons were reported missing but majority of them reported to the base hospital. One of them was found in a critical condition and was taken to Srinagar for specialised treatment, the officials said.
They said two persons are still reported missing and efforts are on to trace them.