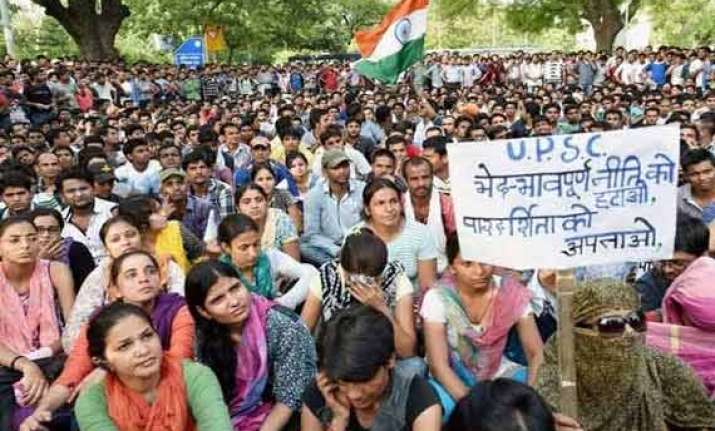 New Delhi: Soon after the government indicated its stand that there will be no more further changes in the civil services examination pattern, protesting students said that they will demonstrate outside the Bharatiya Janata Party (BJP) headquarter at Ashok Road in the nation capital today.
Sources said that some opposition MPs may join the protesting students today.
On Monday, the government had announced that marks of English comprehension questions in Civil Services Aptitude Test (CSAT) paper of the Civil Services preliminary examination will not be counted for the purpose of gradation or merit.
The government had also announced that one more attempt will be given next year to students who had appeared in 2011 civil services examination.
Meanwhile, sources also said that since the UPSC is a constitutional body, the Centre is not in mood to intervene in its affairs on the issue.
Agitating civil services aspirants are demanding complete scrapping of the CSAT examination pattern. The aspirants have been holding protests at several locations in Delhi for the past few weeks.
The CSAT-II paper carries questions on comprehension, interpersonal skills including communication skills, logical reasoning and analytical ability, decision-making and problem-solving, general mental ability, basic numeracy, and English language comprehension skills (of Class X level).
The civil services examination is conducted by the UPSC in three stages -- preliminary, main and interview -- to choose candidates for Indian Administrative Service (IAS), Indian Foreign Service (IFS) and Indian Police Service (IPS) among others.
The UPSC has started issued admit cards to the aspirants for the August 24 preliminary exam.