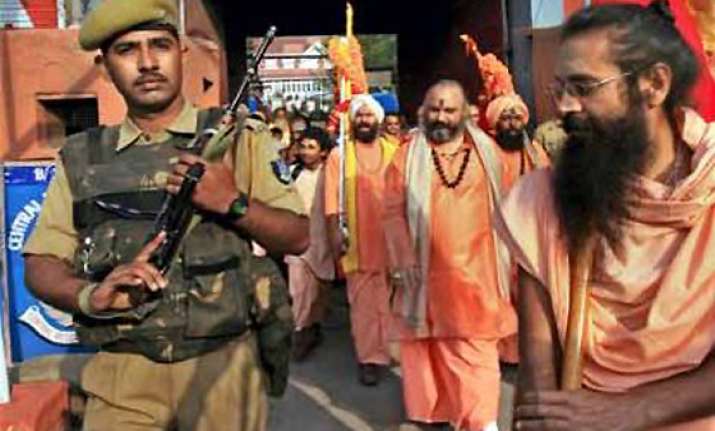 Srinagar, Jun 27: 'Chhari Mubarak', the holy mace of Lord Shiva, will be taken to south Kashmir's Pahalgam next week on a month-long journey of special prayers, marking the ritualistic start of the Amarnath pilgrimage.
The first of a series of special prayers will be held on July 3 at Mattan temple in Anantnag district.  
"Chhari Mubarak will leave for Pahalgam from Dashnami Akhara, Srinagar. 'Bhoomi Pujan' and 'Dhwajarohan' (flag hoisting) ceremonies will be performed at the resting place of Chhari Mubarak in Pahalgam. After performing the rituals, Chhari Mubarak will return to Dashnami Akhara the same day," Mahant Deependra Giri, the custodian of the holy mace, said in a statement.
Prayers will also be offered at Shankaracharya temple and Sharika Bhawani temple on July 19 and 20, Giri said.  
On July 23, 'Charri Pujan' will be performed at Dashnami Akhara on the occasion of 'Nag Panchami'.  
The 'holy mace' will begin its journey from Srinagar to the Amarnath cave shrine on July 28 and on its way special rituals and prayers will be performed at Sureshwar temple in Srinagar, Shiv temples in Pampore and Bijbehara, 'Martand-Tirth' in Mattan and Ganesh temple across river Lidder at Ganeshbal, he said.
The 'puja' will be performed at Pahalgam on July 29.  The Mahant will carry the holy mace to Amarnathji on August 2, 'Shravan-Purnima' to have the 'Darshan'. On that auspicious day prayers would be offered whole day with traditional rituals.
"On August 4, after the 'puja' and 'visarjan' (culminating) ceremonies at the bank of river Lidder in Pahalgam, 'Chhari Mubarak' will return to Srinagar", Giri added.