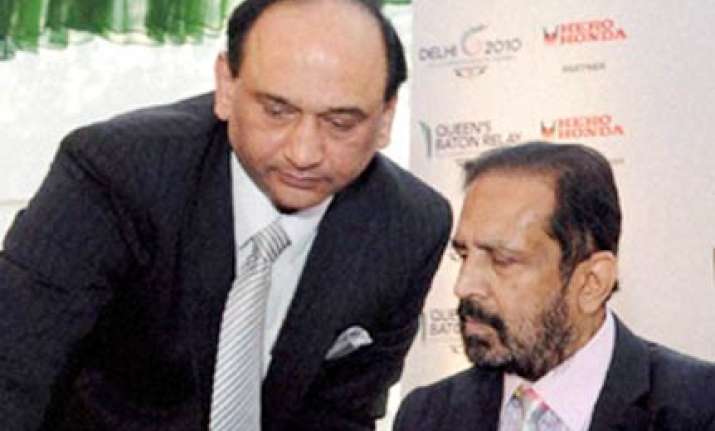 New Delhi, Nov 15: The CBI today stepped into the Commonwealth Games corruption muddle and arrested two sacked senior officials of the Games Organising Committee on charges of forgery and cheating relating to the Queen's Baton Relay in London last year.
CBI arrested T S Darbari, former Joint Director General and Sanjay Mahendroo, former Deputy Director General here after it registered two cases in this regard and conducted searches at four premises including the OC headquarters here.
Both Darbari and Mahendroo are considered to be close associates of OC chairman Suresh Kalmadi.
CBI said the first case was registered under different Sections of IPC and Prevention of Corruption Act in relation to the award of contract to London based AM car and Van Hire Ltd at exorbitant rates.
The CBI has named Darbai, Mahendroo, OC Director Raj Singh, Director of transport firm Ashish Patel, and other unknown persons under sections 468 (forgery of court records and public documents), 471 (using forged documents as genuine), 120-B (criminal conspiracy) of IPC and Prevention of Corruption Act.
"It is alleged that the accused officials of OC in conspiracy with the transport firm and its Director awarded work to the said firm at exorbitant rates without following the standard tender process.
The work was awarded on the false premise that the firm was on the panel of Indian High Commission, London. Two emails were allegedly forged by the officials of OC to justify the selection of the firm," a CBI spokesperson said while reading out a statement by the agency before reporters here.
The second case involves London-based A M Films, Patel, Mahendroo, Darbari and others under sections 420 (cheating), 120-B (criminal conspiracy) of IPC and Prevention of Corruption Act.
"It is alleged that the accused officials of the OC in conspiracy with the private firm awarded the work of installation of video screens at the venue of QBR at exorbitant rates. The work was awarded to the firm purportedly on the basis of fake quotations and without following standard procedure," the CBI official said.
He added, "The accused persons caused huge loss to the Government of India and corresponding wrongful gain to the accused firms."
Both Darbari and Mahendroo are already facing charges of violation of Foreign Exchange Management Act (FEMA) and have been questioned by the Enforcement Directorate.
The ED had registered its first case under FEMA in CWG after British authorities referred to the Indian High Commission a matter regarding A M Films, a little-known company, to which a huge sum of money was transferred through the Royal Bank of Scotland.
According to the OC documents, the money transaction was justified by the members saying "in view of the short time available and the risk of the cancellation of the QBR event, the Organising Committee decided to compare the quotes (of different vendors in London) and evaluate them, keeping in view the cost and time factor.
"The Committee noted that out of the offers, the offer of A M Films, UK at GBP 127712 exclusive of taxes is cheaper compared to other vendors...The Committee therefore recommends that the lowest offer of the GBP 127712 received from AM Films, UK be accepted," it said. PTI