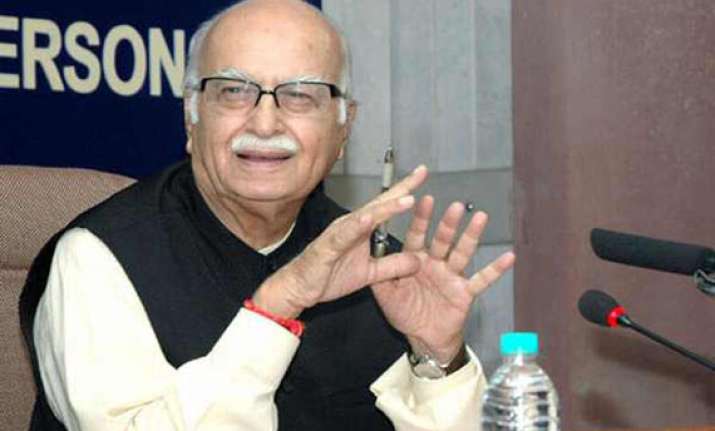 Chandigarh, Nov 17 : BJP leader L K Advani on wednesday said he wanted his party's ex-MPs who had received bail in the cash-for-vote case to be declared innocent and honoured in Parliament for "strengthening democracy.  "It is a matter of happiness, we got this news when we were on way to Jammu, that permission from the court has been granted that they should be released on bail," Advani said at a rally here.

"But in actuality we are not satisfied with bail and want that these people should not just be declared innocent but also be honoured in Parliament for strengthening democracy," he said.

Former BJP MPs Faggan Singh Kulaste and Mahaveer Bhagora and Advani's former aide Sudheendra Kulkarni were today granted bail by the Delhi High Court in the 2008 cash-for-vote case.

Advani said that when his MPs were offered money for voting in Parliament they discussed the matter with their colleagues about what action to pursue.  "They were given the good advice that they should take the money but expose it infront of everyone in Parliament. But the biggest misfortune is that the people who did not sell their vote and exposed the crime were sent to jail," he said.  "In all countries such people are called whistle blowers and laws have been made to protect whistleblowers," Advani said.

"In the past two years this government has brought bad repute to the country. The issue is not Advani, NDA or the BJP, but the issue is the country," Advani told his supporters.

Advani also said that his yatra was not an attempt to repackage himself.

"I believe what I have been doing all my life has given me an image about which I am satisfied," Advani said, adding, "This yatra is concerned with the image of the country."

BJP's leader of opposition Sushma Swaraj also welcomed the court's decision to grant bail to BJP's ex-MPs and criticised the government for increase in food prices.