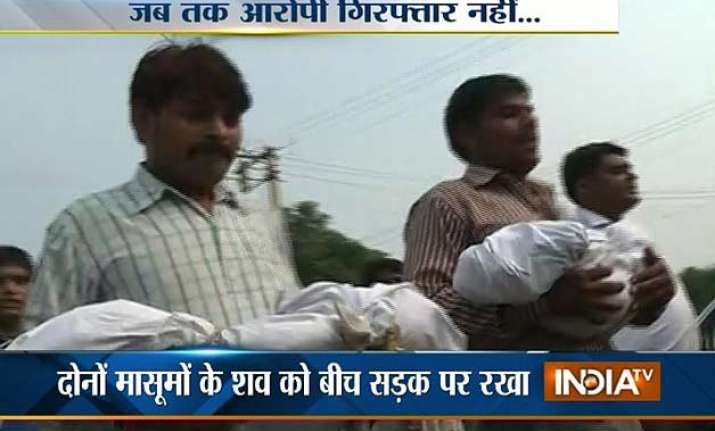 New Delhi: Protesting against the burning of a Dalit family in Faridabad, villagers including children today blocked the Faridabad highway (NH-2) demanding stringent action against the guilty.  Around 400 personnel of Haryana Police were deployed as villagers continue their protest with the dead bodies of the two children.
They were demanding that a CBI inquiry should be ordered in the following case.
Yesterday, two children of a Dalit family were burnt alive and their parents suffered injuries allegedly after some persons from upper caste set their house afire at Sunped village near Ballabhgarh while they were sleeping.  
11 persons, including a father-son duo, have been booked on murder, rioting and other charges, a police spokesman said.  A total of four convicts have been and a police SHO was also suspended in this case
Vaibhav, who was two-and-a-half years old, and his sister, 11-month-old Divya, died after the attackers allegedly poured petrol from the window and set the house ablaze.
A religious programme was being held nearby in the village at that time.
Their mother Rekha, 28, suffered serious burns and has been referred to Delhi for treatment, while their father Jitender, 31, too suffered injuries trying to save his family.
However the latest reports coming in that the senior police officials have convinced villagers to remove their protest from the highway and perform the last rites of the deceased.
Haryana Chief Minister Manohar Lal Khattar was also expected to visit the village. Amid reports that he had cancelled his proposed visit today because of the ongoing protests, sources in his office said in Chandigarh "he will definitely go there either today or tomorrow. Haryana CM Manohar Lal Khattar recommends CBI probe into Dalit burning incident in Faridabad: official spokesman.