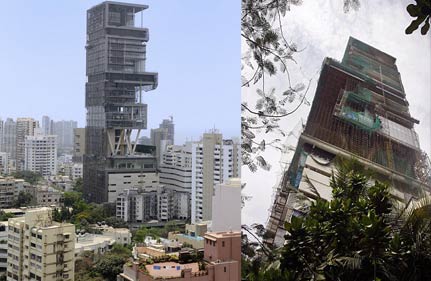 The Daily Mail report on Mukesh Ambani's housewarming party begins thus:
"If you weren't there you were neither rich enough nor famous enough.
"Only the cream of Indian society and Bollywood got through the opulent doors.
"There were heaving buffet tables, a lavish ballroom with a marble floor, nine lifts, a temple, a swimming pool and three helipads.
"No wonder one of the guest at billionaire Mukesh Ambani's lavish house-warming party described it as the 'Taj Mahal of the 21st century.'
"To celebrate moving into the £630 million home overlooking Mumbai's sprawling slums,  Ambani invited 80 guests including Bollywood actors, writers and wealthy businessmen.
"It may need 600 staff to run it, cost £98,000 a month in electricity and looks like it was designed by a blindfolded architect, but no-one at the party cared", says the report.
The report quotes novelist Shobhaa De : 'what has got to be the biggest, glitziest ballroom in India – the Palace of Versailles is a poor cousin.'
She told the BBC: 'It was possible to believe for one mad moment that we were all at Cinderella's ball.
'There is a lot of marble, there is a lot of mother of pearl. There are gardens and lotus pools and an absolutely beautiful Krishna temple.
'The Taj Mahal was considered one of the wonders of the world, this is...I'm sure it's going to be one of the wonders of modern India.'
Other guests included Bollywood stars Preity Zinta and Aamir Khan, billionaire Kumar Mangalam Birla and India's Prime Minister Manmohan Singh, who has previously called on business tycoons to be 'role models of moderation'..
Towering above the Mumbai skyline, the £630 million property at 570ft high has a temple on the ground floor and a library on the top.
It was designed according to Vaastu principles, an Indian tradition similar to Chinese feng shui. Mukesh Ambani, 53, will live there with his wife and three children.
According to Forbes magazine, he has amassed a $27billion (£17billion) fortune as chairman and managing director of Reliance Industries, one of the largest, oil and retail conglomerates in the world
He paid £44 million to build his dream house, but astronomical property values in the Indian city mean it is worth 15 times that amount.
Shiny Varghese, deputy editor of Indian magazine Design Today, said: 'It's so obscenely lavish that I'm not sure too many people will go all that way, but we are heading into the sort of culture where money is not a question when setting up a home.'
But friends have defended him against charges of excess.
One told the newspaper: 'He can't just walk into a cinema and watch a film like you or me.
'It's only a family home, just a big one. It's a question of convenience and requirements.'
Novelist De said the property was built to the personal taste of Mr Ambani, and that people should not 'grudge him his indulgences'.
She added: 'He generates a great amount of employment for those very poor and contributes to the economy.'
Mukesh Ambani's brother, Anil, held a "parallel party" at the 14-storey residence which houses the rest of the family.
Relations between the brothers became strained during a dispute over the division of the conglomerate left by their father, Dhirubhai, who died in 2002 without a will, The Daily Mail report said.