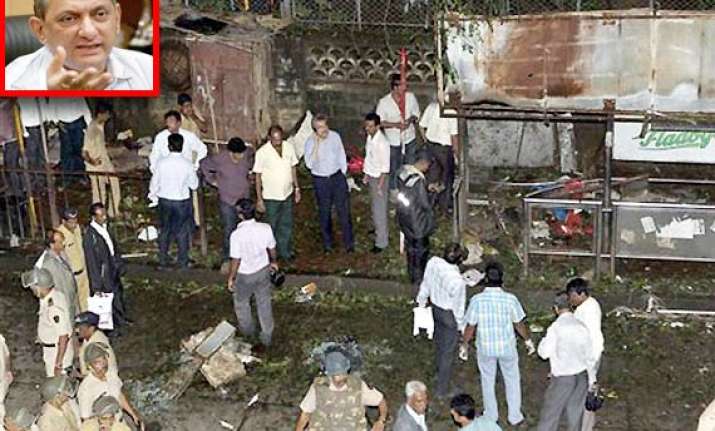 Mumbai, Jul 16: Investigators today claimed they have obtained "good leads" in the triple explosions here, ruled out involvement of a suicide bomber and said a suspect's sketch may be prepared soon.

Maharashtra Anti-Terrorist Squad (ATS) Chief Rakesh Maria said investigations were moving in a "certain direction" but refused to elaborate.

As investigators struggled for a breakthrough three days after the terror attack, police teams also fanned out to seven states widening the probe to get definite leads in a desperate hunt for the bombers.

He said sketch of a probable suspect would be prepared soon based on certain eyewitness accounts and CCTV footage at a blast site.

Maria also made it clear tht till the case is "cracked" and people involved are in the custody of the police they would not like to speculate which group was involved.




He claimed the identification of persons seen in the CCTV footages was on and stated that photograph of an individual seen in the footage needed more verification.

"At this stage, I can say we have good leads and I am not in a position to reveal what the clues are. I can very confidently say, the investigations are probably moving in a certain direction,"  Maria said.

"After visiting the blast sites, we can now rule out the possibility of suicide bomber," the ATS chief added.

Based on an eyewitness account, a sketch of a probable suspect may be ready by tonight and circulated among the investigators, Maria said.

"Experts have retrieved certain portions of metallic container which was used to store and carry the explosives," he added.




Forensic experts had opined that ammonium nitrate mixed with fuel oil was used in the explosives while digital timers were used to carry out the blasts.

He also said ammonium nitrate, crude oil and digital timers were used to trigger the explosions at the sites of three serial blasts.

The death toll in the Wednesday attack rose to 19 after one of the victims of the blasts succumbed to his injuries in a city hospital.

Teams of Maharashtra ATS and crime branch had gone to various places in Uttar Pradesh, Gujarat, Delhi, West Bengal, Andhra Pradesh, Karnataka and Rajasthan Maria said, adding they were also taking the help of police of respective states and the central agencies.

The ATS has questioned the owner of a scooter, which was found very close to the blast site in Zaveri Bazar here, to put together the sequence of events on July 13.  The maroon colour Honda Activa bearing number MH-01-AS 718 was one of the scooters which was very close to the blast site and was partially destroyed. The vehicle belongs to one Ashok Jain who lives in Nagpada area.




"Through the CCTV footage, we do have a photograph at one of the locations that needs more verification and investigations. Our teams are on the job to identify who that individual is," Maria said.

The Additional DG said Maharashtra ATS and the Crime branch teams questioned some previously arrested accused in MP in connection with the blasts.

"Our teams are fanned out at various places and (have) questioned a number of people having links with various modules arrested in the past in a bid to get leads in the case," Maria said while responding to another question.

Nobody had been detained so far, he said.  Asserting that the underworld angle, if any, will be examined, Maria said, "Till the time we arrest the accused, it is inappropriate to say which group or outfit was involved in the blasts."

When asked if any phone calls were received before the blasts and whether Intelligence Bureau (IB) intercepted any calls after or before the explosions, the IPS officer said, "There are calls received post blasts at various control rooms in the city and other controls rooms in and outside the state that had been verified except one call which needs to be verified."

Elaborating on phone calls received in Buldana and Aurangabad, Maria said, "There were calls after two blasts (informing) that third blast would take place veracity of which is being ascertained."

The ATS has also sought assistance from Kolkata Police asking them to verify if any suspects had travelled to Mumbai from that city after the blasts.

He said some of the CCTV footages were "grainy" and in a day or two, investigators will be able to get better images from the CCTV cameras recovered from the blast sites, he said.

"A police team from Karnataka has come to Mumbai to help us. An ATS team from Maharashtra will also go to Karnataka and Ahmedabad to question the IM members lodged in the jails there," said a police official. PTI