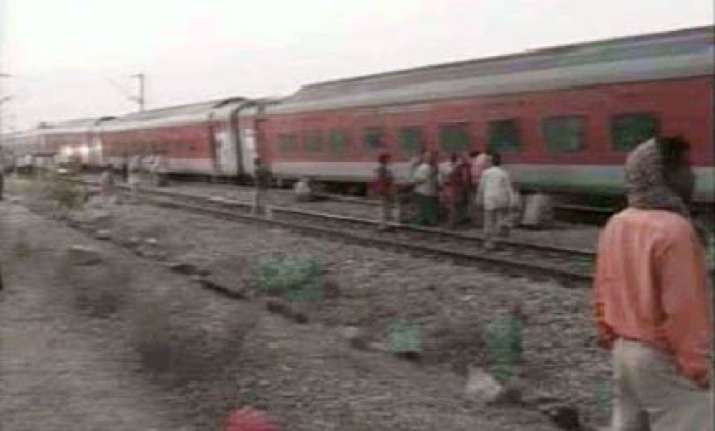 Passengers on board the Bhubaneswar-New Delhi Rajdhani Express had a miraculous escape when ten of its coaches and the engine derailed near Gaya station following an explosion triggered by Maoists, police said.
The accident took place late last night between Kasta and Paraiya stations under Gaya-Mughalsarai section of the East Central Railway, the police said.
Rail traffic was disrupted in the section since midnight last night as cranes were engaged to remove the affected bogies, railway sources said.
Passengers were taken to Mughalsarai by a rescue train from where a special train was arranged to send them to New Delhi, they said.
The explosive planted in the tracks between Kasta and Paraiya stations went off shortly after the train left Gaya station, district Superintendent of Police Sushil Khopde said, adding a medical team with rescue train was sent to the spot.
There was no casualty or serious injury, Khopde said, adding none of the derailed bogies fell on its side which possibly was the reason why no casualty took place.
Ten coaches and the engine of the 2445 up Bhubaneswar-New Delhi Rajdhani Express jumped the tracks due to the impact of the blast, a handiwork of the Maoists who have called a 48-hour bandh in seven states, including Bihar, starting yesterday. 
Routes of several important trains including New Delhi-Howrah Rajdhani Express were diverted from Mughalsarai to Patna in lieu of Gaya for onward journey, the sources said.
Over 42 trains were affected, they said.
Important affected trains include New Delhi-Sealdah Rajdhani Express, Kalka Express and Shaktipunj Express.
Besides, some of the local trains were cancelled due to the ongoing operation in the section.
Meanwhile, police recovered a hand bill left by Maoists at the spot claiming the responsibility for the blast.
The 48-hour bandh has been called by the CPI (Maoist) in Bihar, Jharkhand, Orissa, West Bengal, Chhattisgarh, Andhra Pradesh and three districts of Maharashtra to protest against the 'Operation Green Hunt' launched against them.
According to the sources, railway engineers were pressed into service for repairing the tracks damaged in the blast.
Sanjay Saraogi, a passenger of the D-3 coach, one of the ten derailed bogies, told PTI that none of the passengers were harmed in the incident.
"We heard the sound of a blast, but to my knowledge no harm has been caused to the passengers in the affected bogies," he said from the spot, about 15 km from Gaya station. PTI