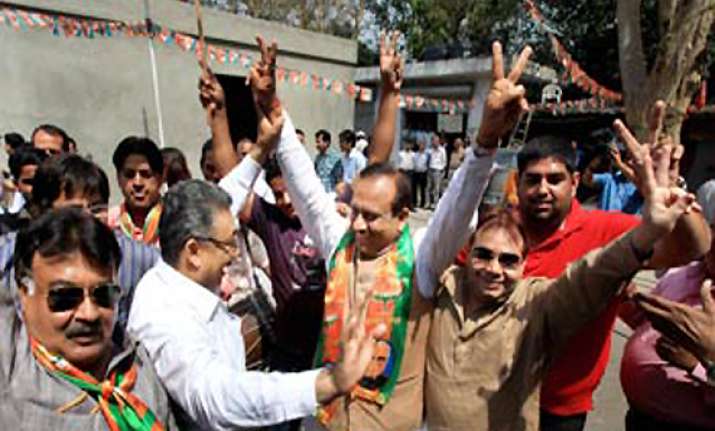 New Delhi, Apr 18:
BJP is banking on party rebels, who won the municipal polls, to muster majority in South Delhi Corporation even as it is initiating discussions for finalising the Mayors in three newly created civic bodies.
Out of the 104 wards in the South Delhi Corporation, BJP has won 44 seats, falling nine short of the majority mark.
Congress has bagged 30 seats while BSP and NCP have won five each, INLD three and JD(U) and RLD one each. 14 independents, including BJP rebels, have also won.
BJP has won the North and East Corporations comfortably. Party sources today expressed confidence that nine BJP rebels, who won the municipal polls from the south, will rejoin the party while its allies, INLD and JD(U), which won four wards, will support the party.
Already some of the rebel winners have spoken to Delhi BJP president Vijender Gupta and extended support, they said.
The nine rebels on whom BJP banks on include Premraj Gupta, Pramod Tanwar, Praveen Rajput and Seema Pandit, they said.
"There is no tension about securing majority. These people were part of us. So, there is nothing unusual in they coming back to the party," a senior Delhi BJP leader said.
Meanwhile, the party is initiating discussions to select Mayors for the three corporations. In the first year, women will hold the post of Mayor in all the three bodies.
In North Corporation, present Delhi Mayor Rajni Abbi is among the front runners. Veteran councillor Meera Aggarwal and Rekha Gupta are also in the race along with Shobha Vijender, the wife of Delhi BJP chief.
Three-time councillors Savita Gupta and Sarita Choudhury are being considered for Mayorship in the south while Lata Gupta, Kalpana Jain and Usha Shastri are in the race in East Corporation.