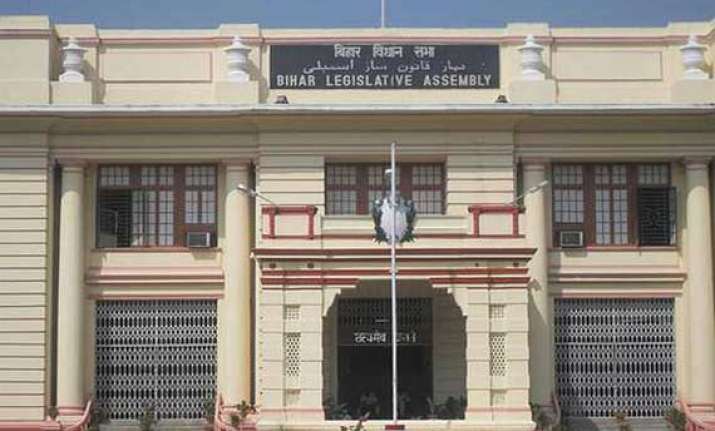 Patna: The Bihar assembly today witnessed noisy scenes after dismissal of adjournment motion of opposition BJP on deteriorating power condition in the state and refusal to hold special discussion on the topic.  
The BJP members trooped into the well and raised anti-government slogans when Speaker Udai Narayan Choudhary rejected adjournment motion of Binod Narayan Jha on power crisis.
The Speaker said that since during discussion on supplementary budget the issue would come up and hence there was no need for a special discussion on power situation.  
But, this did not satisfy BJP who entered the well and raised slogans against the government.  
When the House was plunged into crisis over power issue,Chief Minister Jitan Ram Manjhi who holds Power portfolio, was present in the Assembly.  With pandemonium prevailing in the House, the Speaker adjourned it till 2 PM.
Leader of Opposition Nand Kishore Yadav said the JD(U) government has badly failed in providing electricity to citizens who are battling hardship in hot summer.  
The government had promised to provide uninterrupted power for 18-20 hours a day even in rural areas, but this has not been fulfilled and even citizens in the state capital were reeling under power shortage, Yadav added.  
He said that the government was running away from the issue by not allowing a special discussion on power situation.  
"A special discussion has been scheduled on PHED department whose annual budget is about Rs 682 crore but there is no such discussion on power department whose budget was over Rs 3189 crore," the Opposition leader said.  
Power would be an important issue in Bihar in the Assembly poll next year in view of the fact that former Chief Minister Nitish Kumar, who would be the face of his party in the state poll, had promised to enhance power supply and if he failed he would not go to people to seek votes.