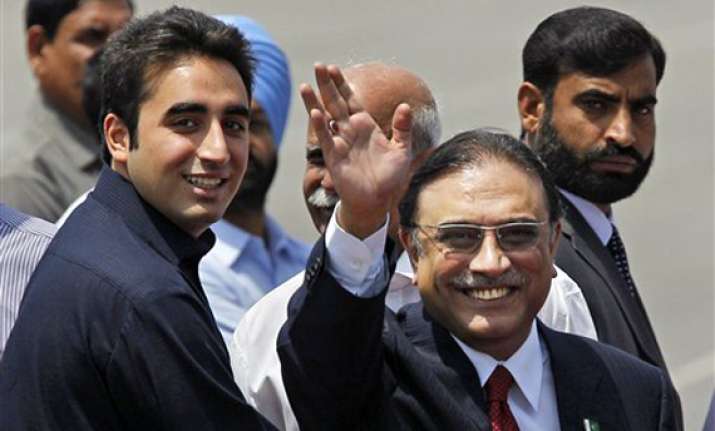 New Delhi, Apr 8: "AOA India Peace be with you," is what 23-year-old Bilawal Bhutto first said as he landed along with his father and Pakistan President Asif Ali Zardari here today.
Dressed in a dark pathani suit, Bilawal, the heir apparent, tweeted to announce his landing on Indian soil to his over 14,000 online followers.
"AOA India Peace be with you. I have just landed in Delhi. 1st ever visit," the Oxford-educated Chairman of the Pakistan's ruling PPP tweeted. AOA is for Allah-o-Akbar (God is great).
A smiling Bilawal, shook hands with officials present to receive him and his father at the Palam Air Force base and turned to the media waving his hands.  
Within minutes of landing, he along with his father left in a black limousine for Prime Minister Manmohan Singh's residence where a lunch is being hosted. 
He will later accompany his father to Ajmer to pay obeisance at the shrine of Khwaja Moinuddin Chishti in Ajmer.
Bilawal tweeted to say that his mother Benazir Bhutto too had accompanied  his grandfather Zulfiqar Ali Bhutto to India.
It was in 1972 that Benazir, still a student in Oxford, accompanied her father  the then Prime Minister Zulfiqar Ali Bhutto to Shimla, where the latter signed the Simla Peace Agreement with the then Indian PM Indira Gandhi. 
The signing of the Shimla Agreement paved the way for the release and repatriation of 93,000 Pakistani prisoners of war from India. 
Bilawal also tweeted about his lunch with Rahul Gandhi and Dr Manmohan Singh to say that the have "much to learn from each other."