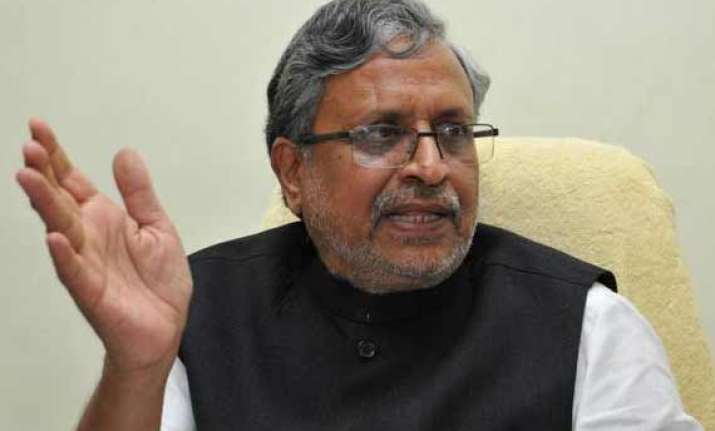 Patna: Leader of the Opposition in Bihar Legislative Council, Sushil Kumar Modi today alleged that Chief Minister Jitan Ram Manjhi was misleading the Assembly and confusing the public over non-availability of post-matriculation scholarship for students belonging to Other Backward Castes (OBC) and Extremely Backward Castes (EBC).  
"The Chief Minister yesterday said in the Assembly that the Centre and the state contribute 50 per cent each in the post-matric scholarship scheme. This is wrong as this scheme has been envisaged by Bihar government," Modi told reporters at the BJP state headquarters.
"The future of lakhs of students is at stake but the CM is giving wrong statements. He is misleading the Assembly and confusing the public. He is incorrectly saying that the Centre is not providing money for the scheme. Our EBC cell will hold a statewide agitation on July 31," added Modi.  
The issue rocked both Houses of the state legislature on Thursday and Friday. It had led to a clash between JD(U) and BJP members in the Council on Thursday.  The clash had happened in the presence of former Bihar chief minister Nitish Kumar and Modi and the Chairman of the Council, Awadhesh Narayan Singh, had to call an all-party meeting to resolve the imbroglio.
Modi said the Centre provides a lump sum amount of Rs 70-80 crore to Bihar for scholarships. "It is a grant and the state is free to spend it in the way it wants." He also said the state government devised its own scheme to provide annual post-matric scholarships of up to Rs one lakh each for deserving students in 2011-12. Its limit was reduced to Rs 75,000 annually in 2012-13 and further to Rs 15,000 in 2013-14.
"Thousands of students who took admission in engineering and other technical institutes in other states are in a bind as they got Rs 1 lakh in one year and then gradually lesser amount subsequently.
"To top it, there has been no distribution of scholarship in 2013-14. This is a joke being played with the future of poor students," said Modi.
The senior BJP leader also pointed out that the CM and his ministers are giving different versions on the issue. While Manjhi said he will meet Prime Minister Narendra Modi over it, Water Resources Minister Vijay Kumar Chaudhary said the state government will provide the entire money if it doesn't get help from the Centre.
Modi also alleged that the reason behind the clash in the Legislative Council was because the state government wanted to divert the attention from this important issue.