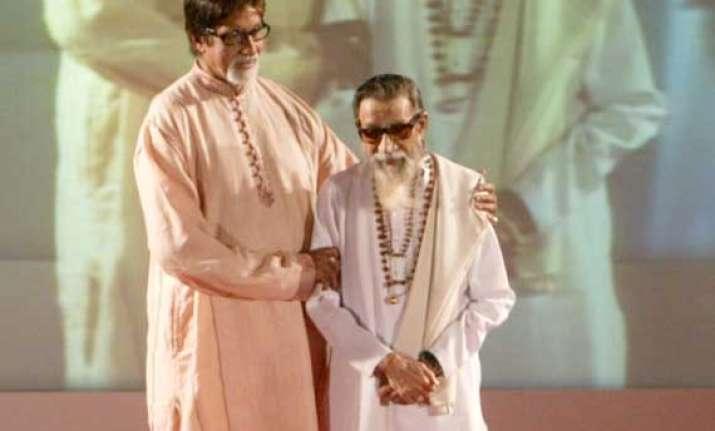 Mumbai, Nov 18: Bollywood megastar Amitabh Bachchan, a close friend of Thackeray family, today quoted his father poet Harivanshrai Bachchan's verses to mourn the death of Balasaheb Thackeray. This is what he wrote in his blog :
I am unable to find the reason or to assuage why I remember these words today, from my Father's works :
अग्नि देश से आता हूँ मैं !
झुलस गया तन, झुलस गया मन ,
झुलस गया कवी - कोमल जीवन ,
किन्तु अग्नि वीणा पर अपने दग्ध कंठ से गाता हूँ मैं !
अग्नि देश से आता हूँ मैं !
स्वर्ण शुद्ध कर लाया जग में,
उसे लुटता आया मग में,
दीनों का मैं वेश किये, पर दीन नहीं हूँ, दाता हूँ मैं!
अग्नि देश से आता हूँ मैं !
तुमने अपने कर फैलाये ,
लेकिन देर बड़ी कर आये ,
कंचन तो लुट चुका , पथिक , अब लूटो राख लुटाता  हूँ मैं!
अग्नि देश से आता हूँ मैं !
~ HRB
I sat by his bedside for hours these past few days, a prayer in my heart, watching him struggling to breathe, but fighting … 

Each day he continued his struggle with a grit that was baffling even for the doctors on hand ..

 And just a couple of hours back, as I stand next to his still, peaceful, saffron draped body, it is difficult to imagine …

… that he has left us !

" हमें छोड़ कर चली
गयी , लो दिन की मौन संगिनी साया "  ~ HRB
Bala Saheb Thackeray finds his place today in peace in the heavens …

In condolence and prayer,

Amitabh Bachchan