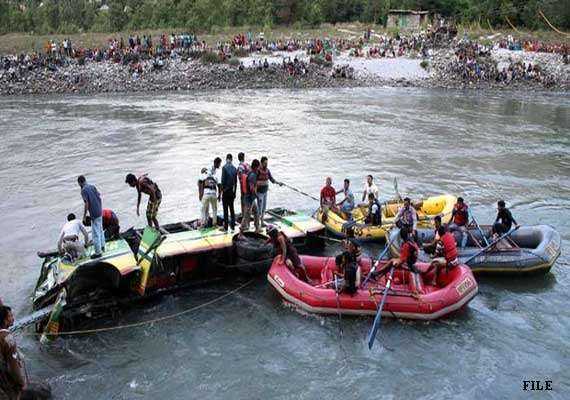 Hyderabad: Even as search operations are on to locate the students of a city-based engineering college washed away in Beas river in Himachal Pradesh, there seems to be no respite from unending ordeal for their parents and relatives waiting for a word on the fate of their dear ones.  
With not much headway on their whereabouts three days after the tragedy, the anxious parents and kin of some of the students are now seeking their bodies, presuming them to be dead while others have still kept their hopes alive.  Amid fading hopes, a group of parents of the ill-fated students appealed to the authorities to redouble efforts to find the bodies.
"Had there been a 'danger sign', the students would not have ventured anywhere near," a parent commented.  "We don't expect all the missing students to be alive. We now need at least bodies to be handed over to us. We want to see their face. We are begging now. Please, please. This is appeal from 24 parents (of students)," another pleaded.  
The 24 students of the VNR Vijyana Jyothi Institute of Engineering here, part of the 48-member group that had gone on a study tour on June 3, were swept away in the swirling waters of the Beas river while taking photographs on Sunday.  Six bodies have so far been fished out, while efforts are on find 18 other missing students and one tour operator.  With no information on the whereabouts of Akhil, every passing moment is becoming unbearable for his father M Sanjay Kumar.
"There is no information from anyone with regard to my son's whereabouts. It is three days since the incident happened. Tomorrow is his birthday. Last time when he spoke to me he said he would be celebrating his birthday in Delhi along with another friend whose birthday happens to be on the same day (June 12)," an inconsolable Kumar told PTI over phone from Warangal district of Telangana.
Praying every minute, Veeranna, father of another missing student Chinnam Parameshwar, was still nurturing hope about his son remaining alive as he was an expert swimmer.  "My son knows swimming. He can swim in the water for at least two hours. I am hopeful he is alive and will come back safely. We got information that he rescued at least two drowning girls and while trying to save another student he was washed away," said Veeranna, from Narasampet town in Warangal district.
Veeranna has put up a flexi cutout outside his home, displaying photo of his son with an emotional message asking him to return alive.