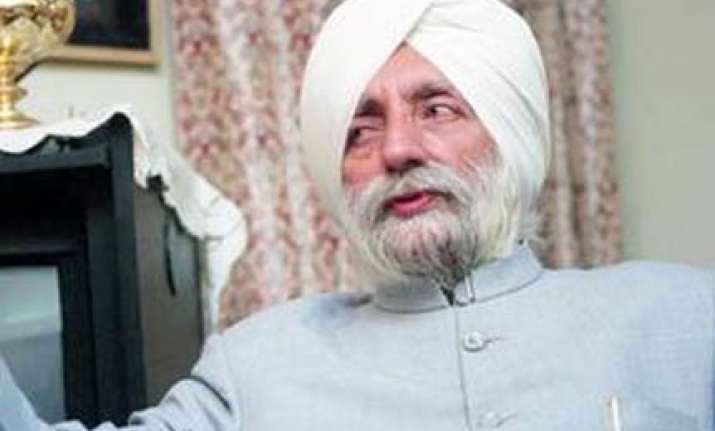 Chandigarh, Oct 12 : The Punjab and Haryana High Court today commuted the death sentence of the mastermind in Beant Singh assassination case to life imprisonment, while it upheld the trial court penalty to four other accused in the case.
A division bench of the court comprising Justice Mehtab Singh Gill and Justice Arvind Kumar termed the case of Jagtar Singh Hawara, who was awarded capital punishment by the trial court in 2007, as a "boundary line for death" and converted his sentence to life.
"It was found that Hawara was not found near Chandigarh on July 30 and 31 in 1995...his case is boundary line for death...he is sentenced to life and will not be released till death," Justice Gill said while pronouncing the order.
However, the bench upheld the capital punishment of Balwant Singh awarded by trial court in July 2007. Besides, the bench also upheld the life sentence of three accused Shamsher Singh, Gurmeet Singh and Lakhwinder Singh.
Barring Balwant Singh, all the accused had filed an appeal against the trial court order in the High Court where the case was heard regularly since February and the arguments were concluded in September this year.
The bench also observed that Balwant Singh had made three confessional statements on his involvement in the killing of the then Punjab Chief Minister Beant Singh on August 31, 1995. The court observed that the role of Shamsher Singh, Gurmeet Singh and Lakhwinder Singh was of providing logistic support in the plan to eliminate Beant Singh.
Suicide bomber Dilawar Singh and his accomplices killed the then Punjab Chief Minister Beant Singh in a blast on August 31, 1995 outside civil secretariat here in which 17 others were also killed.
Defence counsel Baldev Singh told reporters outside court premises that he would decide about the next course of action only after going through the detailed order of the court. Jagtar Singh Hawara and Balwant Singh were awarded death sentence by a Special Court in Chandigarh on July 31, 2007, eleven years after the assassination case.
Three accused Shamsher Singh, Lakhwinder Singh and Gurmeet Singh were awarded life imprisonment while Naseeb Singh was given ten years imprisonment which he had already undergone during the trial which spread over 11 years.
Jagtar Singh Hawara, Balwant Singh, Shamsher Singh, Lakhwinder Singh and Gurmeet Singh were convicted under Sections 302 (murder), 307 (attempt to murder) and 120 B (criminal conspiracy) of the IPC while Naseeb Singh was held guilty under the Explosives Substances Act on July 27. The seventh accused Navjot Singh was acquitted by the Special Court.
In the high profile case, two other accused Jagtar Singh Tara and Paramjit Singh Bheora had escaped from the Burail Jail alongwith Hawara, who was later re-arrested.
Three others named in the case, Mahal Singh, Wadhawa Singh and Jagroop Singh are absconding while three NRIs Manjinder Singh Grewal (England), Resham Singh (Germany) and Harjit Singh (USA) were declared Proclaimed Offenders (POs) on February 19, 1996.
A total of 15 persons had been named as accused in the charge sheet, besides the human bomb Dilawar Singh, who died in the blast at the entrance of the 10 storeyed Punjab and Haryana Civil Secretariat here. PTI