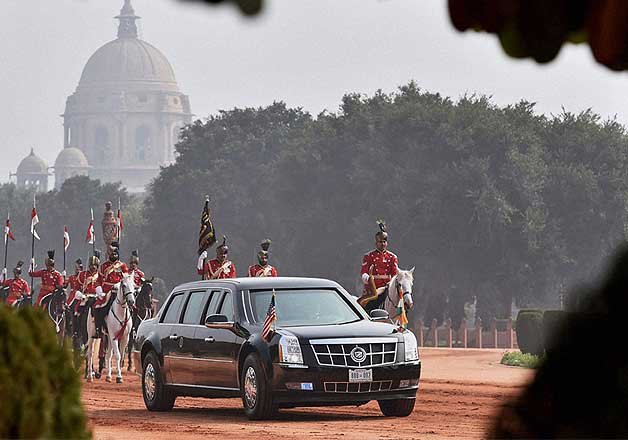 New Delhi: Six-year-old Siya Singh may not know the first name of the US President but she knows for sure that he rides in 'The Beast'.
So, when Barack Obama arrived at the Rajpath today in his bullet-proof vehicle, her mother held her aloft so that she could see the armoured limousine.
Such was the craze the vehicle" aroused along with that for the visiting American President.  There inquisitive looks and a silence when the 'The Beast' (also known as 'Cadillac One') arrived near the ceremonial dais until someone in the crowd shouted, "There it is, the Beast".
Siya's mother Sonia Singh says she came to the parade along with her daughter and friends and their children also because they "wanted to see Obama, and his Beast".  "And, it's a pretty impressive one, I must say, brought all the way from America," she said.  
10-year-old Ojas Dabas from Gurgaon, who also came to the see the Republic Day Parade along with his family, says, "his entire class at the school were jumping about ever since they heard about his (Obama's) visit."
"When I came for the parade, I knew I had to get the best seat to get the best view of the Beast. And I saw it. It was awesome," Ojas said.His sister Anjali, a student of Class 10, said the media played a great role in making people know about the vehicle by "talking so much about it".
"I had no idea about what a Beast was but I have read so much about it that I wanted to see it. And I think it's a good thing that the media talked about it," she said.