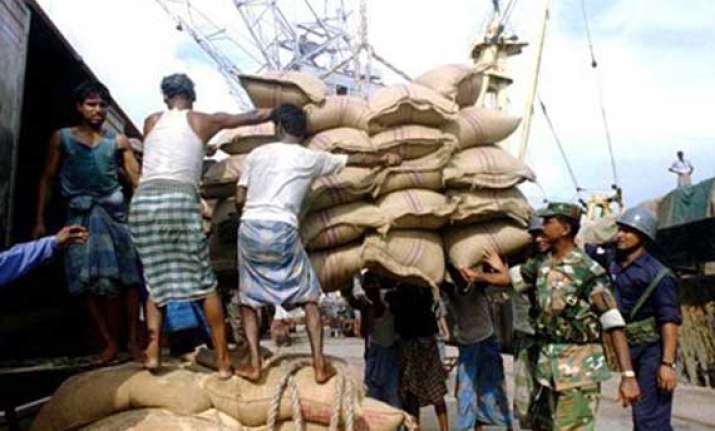 Agartala: In a highly significant move that was evidently cleared at the highest level, Bangladesh is allowing India to ferry foodgrain to the landlocked northeastern states using its territory and infrastructure.
"To begin with, the Bangladesh government has under a special transit facility agreed to transport 10,000 tonnes of foodgrain for Tripura via its territory," Tripura's Principal Secretary (Food, Civil Supplies and Consumer Affairs) B.K. Roy told IANS.
"After getting a green signal from the Bangladesh government, the FCI (Food Corporation of India) initiated the process of transporting foodgrain and essentials using the Ashuganj river port (in eastern Bangladesh) and the roadways connected to the northeastern states."
The foodgrain would be ferried by small ships from Kakinada port in Andhra Pradesh to Ashuganj and then by road to Tripura in Bangladeshi trucks. Ashuganj is 31 km from Tripura capital Agartala.
"The FCI had earlier floated tenders to select Bangladeshi transporters. After a series of diplomatic and administrative parleys involving various Bangladeshi ministries and India's food, finance, shipping and external affairs ministries, the long-pending matter was settled recently," the official added.
Earlier, in 2012, Bangladesh had allowed India's state-owned Oil and Natural Gas Corporation (ONGC) to ferry heavy machinery, turbines and cargo through Ashuganj for the 726 MW Palatana mega power project in southern Tripura. The Indian government had spent several millions of rupees to develop the port and related infrastructure.
"After Tripura, foodgrains would be ferried through Bangladesh for other northeastern states, including Mizoram, Manipur and southern Assam, to save time and costs, besides ensuring certainty," an FCI official said.
"Due to shortage of rail wagons, inadequate storage facilities and various other bottlenecks, the northeastern states have been suffering from poor supply of food grains for most part of the year, especially during the monsoon (June to September)," Tripura's Food, Civil Supplies and Consumer Affairs Minister Bhanulal Saha told IANS.