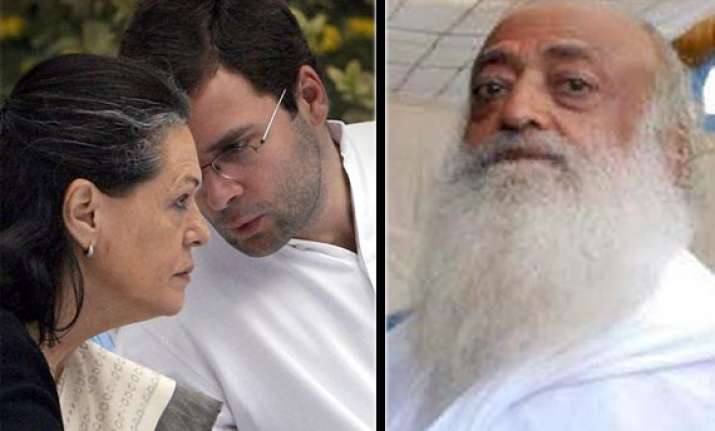 Bhopal: Beleaguered self-styled godman Asaram Bapu today sought to drag Congress president Sonia Gandhi and her son Rahul into the sexual assault controversy surrounding him, alleging it was at their instance that he has been framed.
"I am not against any party but people tell me that it is at the instance of madam and her son that this is happening. For four-years-and-a-half those behind (religious) conversions are getting their support," Asaram told reporters at Bhopal airport without naming Sonia or Congress vice president Rahul Gandhi.
The self-styled godman said if he is sent to jail, he would begin a fast as he did not trust the food which would be served to him as "part of a conspiracy".
72-year-old Asaram, in the eye of a storm following allegations of sexual assault, flew into a rage when asked if anybody was protecting him.
"Nobody is trying to protect me....what you are saying is wrong...no party is in my support...don't talk like this ...don't torment me," a furious Asaram told reporters,
abruptly ending his media interaction.
As he was whisked away by armed police escorts, his supporters shouted slogans against the media and moved menacingly towards mediapersons.
Senior BJP leaders Uma Bharti and Prabhat Jha had recently defended Asaram, terming rape charges against him as a "Congress conspiracy".
Reacting to Asaram's allegations against Congress president and Rahul Gandhi, senior party leader Karan Singh said," A case has been filed against him so he is speaking
like this.
"But how can one speak like this without any proof. Tomorrow, if somebody says a case has been registered against him at the behest of Karan Singh, will you believe him," he asked.
Asaram, who has been issued summons by Jodhpur police to appear before it tomorrow for questioning in connection with the allegations of sexual assault by a 16-year-old inmate of his ashram, said he would not seek more time to present himself before the police.
The Jodhpur police had yesterday said it was yet to take any decision on Asaram's plea for more time.
"We have not yet received the application of Asaram in this regard. The team bearing this application is yet to arrive at Jodhpur and before going through that request, we
cannot say anything," DCP Ajay Pal Lamba had said.
Asaram Bapu, who is accused of sexually assaulting a minor, will face arrest if he fails to appear before the Jodhpur Police tomorrow, a top police officer has said.  
"We will wait until August 30 as per the deadline of the summons served on him and if he fails to turn up by August 30, we will send a team to arrest him on August 31," Jodhpur Police Commissioner Biju George Joseph told reporters here late last night. 
72-year-old Asaram had sought extension in the date of appearance before the investigation officer of the case at Jodpur citing he had various pre-decided religious fixtures lined up till September 19. 
Yesterday, DCP Ajay Pal Lamba had said that police will wait till August 30 and if the self-styled godman fails to appear before them for questioning, further course of action would be decided on that day. 
Meanwhile, three other accused, including Shilpi (the warden of the hostel at Gurukul), Keshav (attendant of Gurukul) and Shiva (caretaker of Asaram, who was with him at Manai ashram on the day of incident) will appear before the investigating today for interrogation. 
According to the DCP, Shilpi and Keshav had sent the 16-year-old girl to Jodhpur for a ritual to ward off evil spirits for which Asaram had wanted to be alone in the room with the minor on the night of August 15, and Shiva had threatened the girl against disclosing the incident to anyone. 
Asaram's son Narayan Sai, in comments which could stroke a controversy, had claimed that the minor girl who levelled the allegations is "mentally unstable".