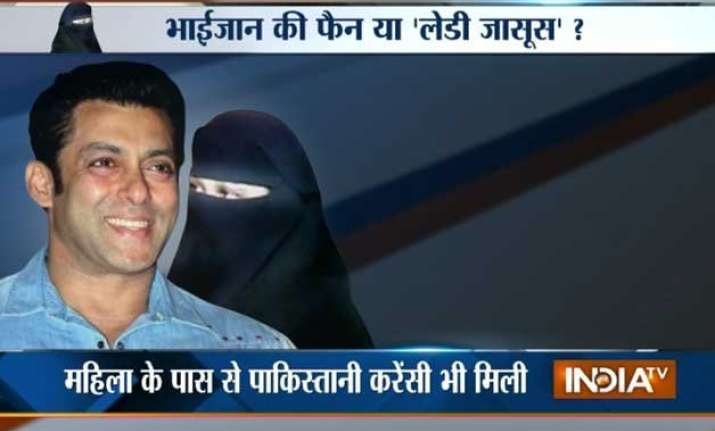 Jalandhar: Railway Police at Jalandhar Railway station is in a fix over what to do with a  a Pakistani woman who has entered India without a valid passport and visa.
The woman claims to be a diehard fan of Bollywood superstar Salman Khan.
Irritated over the interrogation, she said, "Send me to Salman or Pakistan or shoot me."
The woman, named Chanda Khan or Fouziaya, was arrested on Wednesday night from Jalandhar railway station for allegedly travelling without a passport. A ticket checker found that she was travelling without a ticket and other relevant documents.
GRP officials said that 27-year-old Chanda, a resident of Karachi, boarded the Samjhauta Express from Lahore and arrived in Attari on Thursday.
During questioning, the woman said she wants to meet superstar Salman Khan.
When asked if she came alone, her answer was no. She said her 'mamu' (maternal uncle) accompanied her on the journey but was lost somewhere on the way.
The woman once said that she wanted to meet Salman Khan and then changed her stance saying her uncle works with the superstar. At one point she told interrogating officials that her 'Mamu' (maternal uncle) and she wanted to visit some 'Dargah' to seek the blessings for having kids.
On the question if she crossed the border to meet 'Bajrangi Bhaijaan' actor Salman Khan after watching the film, she said she hasn't watched the film and expressed desire to watch the film.
The inconsistency in her statement alerted the railway police and it informed the central agencies including the intelligence officials.
Assistant Superintendent of Police (ASP), Government Railway Police (GRP) Makhan Singh said, "A Pakistani woman travelling without passport, visa and a ticket on Attari-Delhi special train no 14002 was arrested late last night here."
On being asked as to how the woman boarded the train without valid travel documents, the official said, "Customs department and not railway police is not responsible for checking travel documents."
"During interrogation, the woman claimed that she went through checking at both Lahore and Attari. When contacted, the authorities at Attari said they had no information about Chanda Khan," he said.
The ASP said that 771 Pakistani Rupees have been recovered from her.
The woman has been booked under Sections 3/34, 20 of the Indian Passport Act and handed over to GRP Attari, he said.
The woman said her name was Chanda and people of her village also call her Fouzia.
An official also added that from her acts she was appearing a little mentally disturbed.