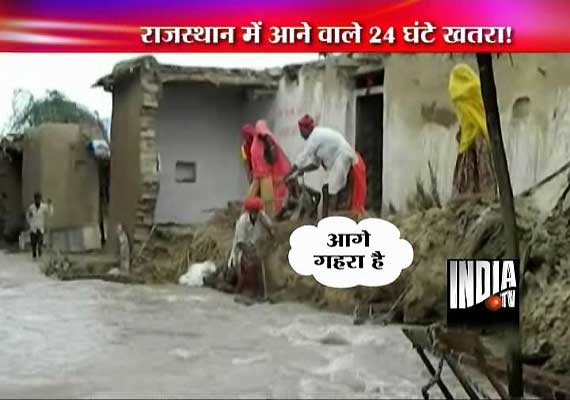 Jaipur/Delhi/Churu/Sikar, Aug 24: Flood relief columns of the army have been pressed into service  to provide relief and rescue to millions of people facing floods in different parts of Rajasthan.
Army's Jaipur based South Western Command has rushed rescue and relief stores with 10,000 sand bags and 10 water pumps to the flood-affected areas of Madrempura, Jaipur. 
Another flood relief column has rushed to Laxmangarh in Sikar district.
In addition, flood relief columns of the army have been placed in affected areas to be deployed  at the earliest, as and when requisitioned. 
The flood relief columns comprise of professionally trained troops in execution of all types of conceivable rescue and relief tasks in flood affected areas along with the requisite equipment, medical team and other support elements of the army. 
The dam near Ajmer is overflowing due to continuous rains for the last 4 days, while in Sikar, life has come to a standstill, with schools and colleges closed due to waterlogging inside the town.  
The Chambal river is in spat in Dholpur, with weathermen issuing warning to people to be on alert for the next 24 hours.  
Seven districts of Rajasthan are presently facing the onslaught of heavy rains and floods.  
Meanwhile, the river Yamuna flowing through the national capital Delhi is in spate due to release of 30,000 cusecs from the Hathinikund barrage in Haryana.  
The water level of Yamuna in Delhi has touched 203.88 m, nearly one metre below danger level.  
The flood control staff of Delhi government is ready with its boats to provide relief to people living in homes near the Yamuna.   
If the Yamuna crosses the danger level, several localities like Okhla, Kalindi Kunj, Jamia Nagar, Pushta and Wazirabad may have to face flood.  
Flowing of sewage water from 17 drains into the Yamuna have been suspended.