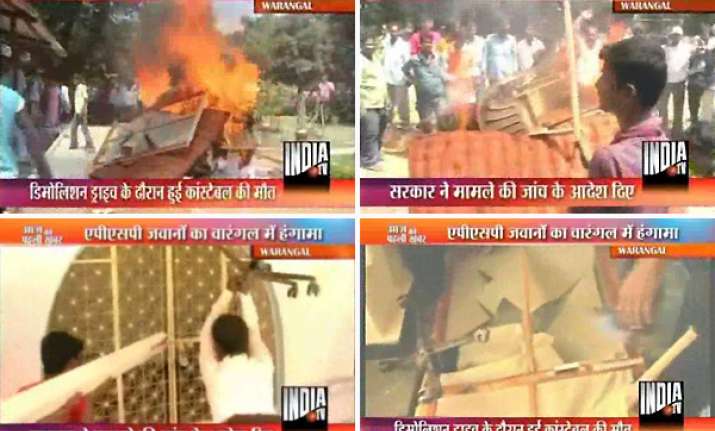 Warangal, Oct 6: The death of an Andhra Pradesh Special Police constable in a building collapse sparked  a virtual revolt in a battalion here on Wednesday.
 
Holding their commandant responsible for the death, furious constables of the battalion ransacked his house. Local policemen who tried to intervene were almost attacked.
 
Sampath, a constable with the APSP 4th Battalion at Mamunoor near Warangal was buried alive when an old building where he was working collapsed on Wednesday. He was part of a 10-member team that was dismantling the structure.
 
But the catch was that the demolition job was going on in the name of a Physical Training routine, at the behest of their commandant Sunil Kumar Naik. Naik, who is constructing his own house in Hyderabad fell for the precious teakwood in some of the Nizam-time old edifices around Mamunoor.
 
He has been using his personnel for sometime to demolish such buildings and allegedly shifting the teakwood to Hyderabad. But the commandant's greed proved costly for constable Sampath. Five other constables had a lucky escape in the incident with minor injuries.
 
Enraged constables of the battalion soon attacked and ransacked the residential quarters of commandant Naik. They destroyed and burnt the furniture right in the presence of a shocked district SP Rajesh Kumar.
 
Accusing the commandant of using the constables for his personal and vested interests, they staged a sit-in with the dead body of Sampath in front of the commandant's house. At one stage, they turned their anger on Officer on Special Duty Sarvashresta Tripathi and almost assaulted him.
 
The wailing relatives of Sampath accused Naik of exploiting the battalion in the name of Physical Training routine. Holding him responsible for the death, they demanded stringent action against the officer.
There was brief tension when the civil police tried to intervene. They were warned and turned away by the agitating APSP constables.
 
The incident has attracted the attention of APSP Additional Director General who has ordered an inquiry. Commandant Naik is now also under the scanner for illegal demolitions of Nizam-time buildings.