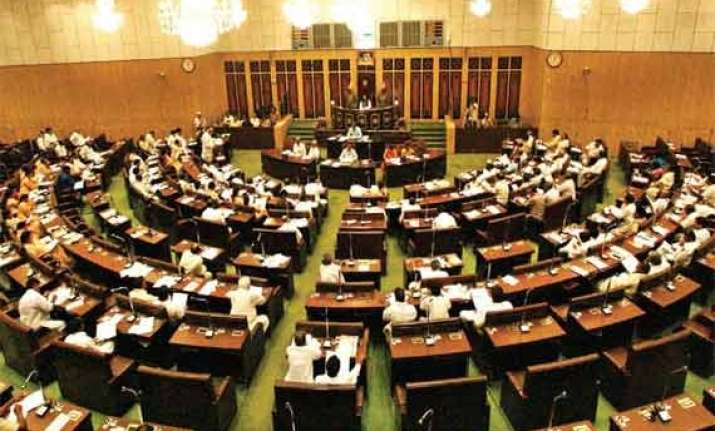 Hyderabad:  Andhra Pradesh Assembly late tonight passed the AP Capital Region Development Authority Bill, 2014, on a day proceedings of the House were marred by noisy scenes and unruly behaviour by members of the opposition YSR Congress.
Even as Speaker Kodela Sivaprasada Rao admonished its members over their unruly behaviour, the YSRC opposed the Bill while Leader of Opposition Y S Jaganmohan Reddy made contradictory claims over locating the new capital city of the state.
Read Also:Rs 2,000 crore for disabled in next four years: N Chandrababu Naidu
Chief Minister N Chandrababu Naidu, while promising to fully protect the interests of land owners who part with their land for the construction of the capital city, said his government would build "people's capital of the 22nd Century" that would make every Telugu feel proud. 
"We will adopt best practices from across the globe and build world-class infrastructure for the capital. We are implementing the best land pooling system for securing land for the capital city," Naidu said.
The Bill would give legal sanctity to the proposed land pooling system under which the government would secure required land for the capital from farmers and make them partners in development.
The state government had already announced a detailed land pooling policy separately providing a share in the developed land to the owners.
The legislation seeks to declare the Capital Area for the state of Andhra Pradesh, ensure planning, coordination, execution, financing, promoting and securing planned development of the capital region, provide, manage and supervise urban services in the new capital area and improve quality of life of citizens residing in it, state Municipal Administration and Urban Development Minister P Narayana said, explaining the salient features of the legislation.  
A perspective plan for 100 years, a concept master plan for 20 years and a detailed master plan for 10 years would be prepared for the capital region.
The Chief Minister would be Chairman of the Authority, while the Municipal Administration and Urban Development Minister would be the vice-chairman.