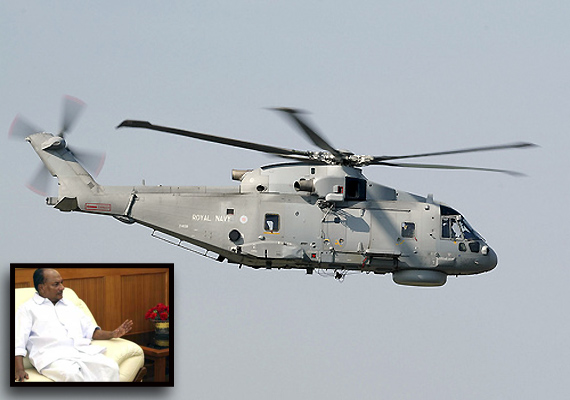 New Delhi, Feb 24: Defence Minister A K Antony today ordered a probe to find out if there was corruption in the Rs 3,500-crore deal to procure 12 helicopters for VVIPs from European defence firm Agusta Westland.  

"Antony today asked Defence Secretary Shashi Kant Sharma to probe if there was any corruption involved in the procurement of these 12 AW-101 helicopters from European company Augusta Westland," Defence Ministry sources told PTI here.

Agusta Westland is a subsidiary of Italian defence company Finmeccanica which had edged out Sikorsky's S-92 Superhawk for the deal.

India signed a contract worth Rs 3,546.17 crore in February, 2010, to procure 12 of these helicopters, of which eight would be for VVIP transportation and four for non-VVIP version.

The new helicopters are being procured to replace the ageing Russian-made Mi-8 helicopters that are nearing completion of their life.

Reports in Italian daily 'La Repubblica' suggest that prosecutors there have already started probing allegations of corruption in the multi-millon deal.

They say that Italian attorney general's office began a probe last year into the dealings by Finmeccanica and now it has been widened to include the Rs 3,546-crore contract with India.

It reports a senior company official, Lorenzo Borgogni, has told prosecutors that slush funds were generated after a "sudden" escalation of price by 10 million euros in 2010.

A few months before the deal was cleared by India, the Finance Ministry had raised issues relating to costs but it did not do so after security concerns over VVIPs were raised by the Special Protection Group (SPG) and the Indian Air Force, Antony had told the Parliament recently.

The reports say while it is not clear whether kickbacks were paid in India, the money was allegedly used by a top Finmeccanica official to bribe Italian political parties.

According to the reports, another Finmeccanica subsidiary, Selex Sistemi Integrati, is also being probed and had recently won a 10 million-euro contract to supply radars and other equipment for India's first indigenous aircraft carrier under construction in Kochi.