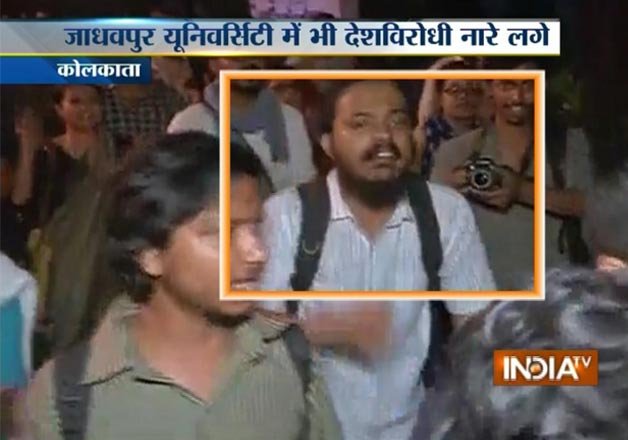 Kolkata: Barely seven days after alleged anti-India slogans were voiced during an event to commemorate the third death anniversary of Parliament attack convict Afzal Guru, protestors at Kolkata's Jadhavpur University were today seen raising pro-Afzal Guru slogans in a rally.
A section of protestors could be seen shouting slogans of "Afzal maange azaadi", "Kashmir ne maangi azaadi", "Geelani maange azaadi" during a protest rally held in the university campus. It is yet to be ascertained if the protestors shouting slogans were actually students of the university.
Students of the university have been protesting against the arrest of JNUSU president Kanhaiya Kumar and the government's crackdown on the varsity campus. The incident is a grim reminder of similar scenes witnessed at the JNU campus on February 9, which also saw alleged anti-India slogans being raised at the event.
Jadhavpur University officials, however, are yet to comment on the incident. The university vice chancellor denied any information on the matter, saying he had so far received no information in this regard. Students owing allegiance to Left-wing parties had organsied this protest rally which was to include a candle light march.
While the initial stages of the march saw no anti-India slogans, some members from the group broke into pro-Afzal sloganeering. 
Meanwhile, the JNU incident has boiled into a major issue, with the police arresting the Left wing student leader from the varsity campus on sedition charges. The actions further led to a bitter war of words between the ruling government and the opposition parties.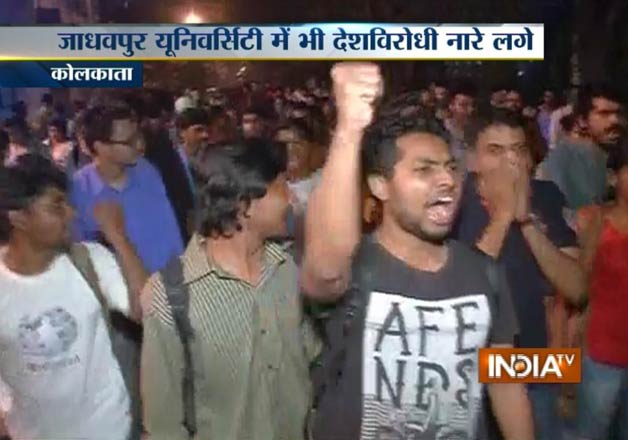 Ugly scenes erupted at the Patiala House court complex in Delhi during the hearing on a case of sedition on Kanhaiya Kumar. Students, teachers of JNU as well as media personnel present to cover the developments in the case were roughed up.
Former Delhi University professor S A R Geelani was also arrested today for an event at the Press Club of India in Delhi, which also saw anti-India slogans being raised. He has now been sent to two days in police custody.