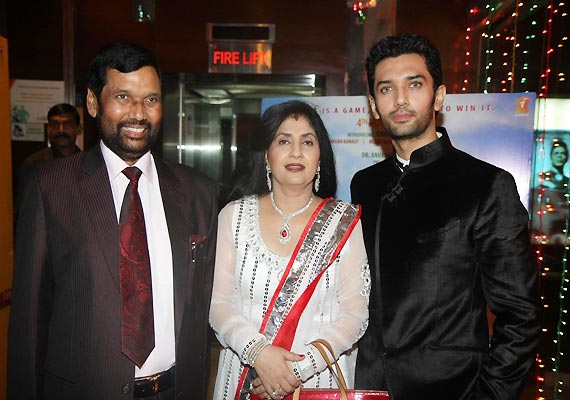 New Delhi, Jul 23: Marking a new 'son rise' in Bihar politics, LJP chief Ram Vilas Paswan today appointed his son Chirag as chairman of the party's parliamentary board.
Announcing the decision here, Paswan said he had to yield to the overwhelming demand of LJP leaders and cadre and hoped that the projection of his actor-turned-politician son will attract young voters to the party.
He said the post of parliamentary board chairman is very important and Chirag will play a big role as LJP's "star campaigner" and in setting up election committees in states.
Thanking the leadership and party workers for reposing faith in him, Chirag said he would strive to shoulder his responsibility and strengthen the organisation in Bihar.
He parried a query when asked to make a comparison between Congress leader
Rahul Gandhi
and BJP's Varun Gandhi, saying if both are working well why to make a comparison.
To a question whether Chirag will seek to give a challenge to Rahul Gandhi in Bihar as far as wooing youth is concerned, the LJP chief said there will be a contest with Gandhi only when there is a contest with Congress.
"When there is no contest between LJP and Congress, where is the question...," he asked.
LJP is making a desperate bid to stitch an alliance with Congress as it believes that a grand alliance among Congress, LJP and RJD can be a winning combination in Lok Sabha polls.
The party was so far being run primarily by the former Union minister and his two younger brothers Ramchandra Paswan and Pashupati Kumar Paras, who is LJP's Bihar chief.