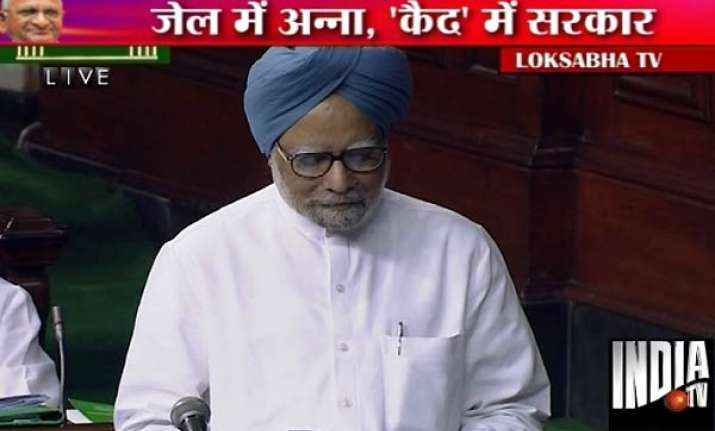 New Delhi, Aug 17 : Asserting that Parliament was the sole body to frame laws, Prime Minister Manmohan Singh today said Anna Hazare had sought to impose his version of Lokpal Bill which was "totally misconceived" and fraught with "grave consequences" for Parliamentary democracy.

Making a statement in both Houses of Parliament in the wake of action against Hazare and his supporters, Singh said the government acknowledges the right of citizens to hold peaceful protests but permission for these is given subject to "appropriate conditions".

Amid continued chants of "shame shame" by Opposition benches, he appealed to all political parties to ensure that the government and its processes and Parliament and its processes function smoothly and effectively.

While giving details of the sequence of events that led to civil activist's arrest and subsequent release, Singh said Hazare had been held as a preventive measure because of apprehension of breach of peace.

"Government does not seek any confrontation with any section of the society. But when some sections of society deliberately challenge the authority of government and prerogative of Parliament, it is the bounden duty of the government to maintain peace and tranquility," he asserted after demand by all Opposition parties that nothing short of Prime Minister's statement would satisfy them.

"Hazare may be inspired by high ideals in his campaign to set up a strong and effective Lokpal. However, the path that he has chosen to impose his draft of a bill upon Parliament is totally misconceived and fraught with grave consequences for our Parliamentary democracy," he said.
Singh, who spoke in Parliament soon after a Congress Core Group meeting, asserted that it is the sole prerogative of Parliament to make laws and government has gone by well-settled principles.

Insisting that "the issue" between the government and Anna Hazare is "not one of different attitudes to fighting corruption", the Prime Minister said the civil society activists "must allow the elected representatives of the people in Parliament to do the job that they were elected for.

"With respect to the events of yesterday, I will only say that a functional democracy must allow multiple voices to be heard. But differences of opinion must be resolved through dialogue and consensus. Those who believe that their voice and their voice alone represents the will of 1.2 billion people should reflect deeply on that position," he said.

Singh said everyone in Parliament agrees that Lokpal Bill must be passed as early as possible. "The question is, who drafts the law and who makes the law. I submit that the time-honoured practice is that the Executive drafts a Bill and places it before Parliament and that Parliament debates and adopts the Bill with amendments if necessary," he said.

"However, I am not aware of any constitutional philosophy or principle that allows any one to question the sole prerogative of Parliament to make a law," he observed.

He said that in making a law on Lokpal, the government has "faithfully adhered to well-settled principles" and Hazare "questions these principles and claims a right to impose his Jan Lokpal upon Parliament."
Singh, who spoke in Parliament soon after a Congress Core Group meeting, asserted that it is the sole prerogative of Parliament to make laws and government has gone by well-settled principles.

Insisting that "the issue" between the government and Anna Hazare is "not one of different attitudes to fighting corruption", the Prime Minister said the civil society activists "must allow the elected representatives of the people in Parliament to do the job that they were elected for.

"With respect to the events of yesterday, I will only say that a functional democracy must allow multiple voices to be heard. But differences of opinion must be resolved through dialogue and consensus. Those who believe that their voice and their voice alone represents the will of 1.2 billion people should reflect deeply on that position," he said.

Singh said everyone in Parliament agrees that Lokpal Bill must be passed as early as possible. "The question is, who drafts the law and who makes the law. I submit that the time-honoured practice is that the Executive drafts a Bill and places it before Parliament and that Parliament debates and adopts the Bill with amendments if necessary," he said.

"However, I am not aware of any constitutional philosophy or principle that allows any one to question the sole prerogative of Parliament to make a law," he observed.

He said that in making a law on Lokpal, the government has "faithfully adhered to well-settled principles" and Hazare "questions these principles and claims a right to impose his Jan Lokpal upon Parliament."
While performing the "painful duty" of reporting to Parliament the developments surrounding Hazare, the Prime Minister referred to his Independence Day address where he had spoken at length about the need to deal effectively with corruption.

"I would like to assure the House that we are determined to provide a government that is transparent, accountable and responsive at all times and determined to fight corruption," he said.

But, he maintained, "there is no magic wand by which, in one stroke, we will get rid of menace of corruption. We have to work simultaneously on several fronts."

Singh pointed out that he had outlined some of the measures that government intends to put in place to strengthen fight against corruption and invited all sections of the House to join hands to deal with the "cancer of corruption".

Appealing for allowing smooth functioning of Parliament, he said, "There is no substitute for that. If some people do not agree with our policy, there will be a time when they will have an opportunity to present their points of view to the people of India."

Noting that India is an emerging economy and important player on the world stage, Singh said, "there are many forces that would not like to see India realise its true place in the comity of nations. We must not play into their hands."

He said such an environment should not be created in which "economic progress is hijacked by internal dissension. We must keep our mind focused on the need to push ahead with economic progress for the uplift of the 'aam aadmi' (common man)". PTI