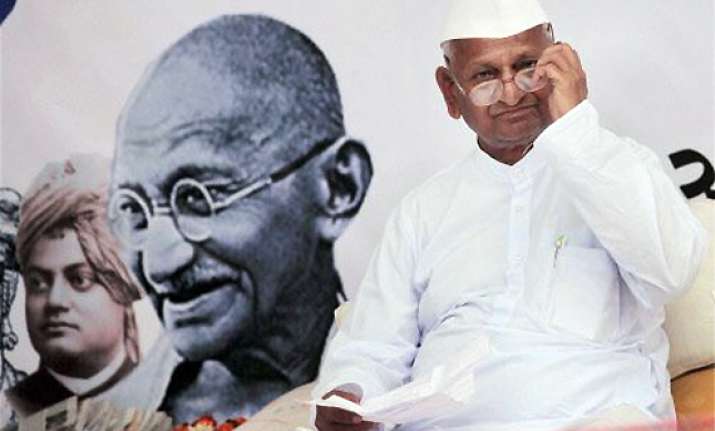 Ralegan Siddhi, Oct 31: Anna Hazare, who has been in 'silent mode' for the past fortnight since his team members got enmeshed in a series of controversies, may break his 'maun vrat' (vow of silence) in the next couple of days as he wants to hold "open discussions" with his supporters. 

The 74-year-old activist today said he wants to start on a tour of different states after ending his fast and hopes to "gather energy" from his supporters to get the Jan Lokpal bill passed and then to fight for electoral reforms including 'Right to Reject' and 'Right to Recall'. 

"The thought of giving up on my 'maun vrat' is playing in my mind. In the next 3 to 4 days I might end my 'maun vrat'," Hazare said in his latest blog posting 'Straight from the Heart'.

"Crores of people have turned to reading my blog all over the world hence I think it would only seem appropriate that I end my 'maun' and hold open discussions with them," he said. 

Hazare conveyed his intention to break his vow of silence a day after his key aides Arvind Kejriwal, Prashant Bhushan and Kiran Bedi met him in Ralegan Siddhi and decided to write a Constitution for its anti-corruption movement and revamp the Core Committee after that.

Four days ago, Hazare had said in his blog that his health still does not permit him to give up his vow as verbal communication was leaving him very weak.  Hazare said he will also embark on a tour to meet all those young men and women, farmers, working class people and school children who were a part of this movement against corruption and "at times even went to jail for the sake of the cause".

"I have this strong urge from within to meet and talk to all these people who bravely faced the hazards. Hence I would like to end my 'maun' and start off touring different states and hold discussions with them," Hazare said. 

"Especially, I hope to gather as much energy from these young men and women as I had during my previous movement. The same energy will be utilised to get the Janlokpal Bill and then my struggle will continue for 'Right to Reject' and 'Right to Recall'. All my countrymen will be connected with me directly in this struggle is my belief," he said. 

Hazare began his 'maun vrat'on October 16 at his native village in Maharashtra for 'atma shanti' (peace of soul). He shifted his residence from the Padmavati Temple complex to his old residence, the Yadavbaba Temple complex, in this village, about 250 km from Mumbai.

Hazare's announcement that he would be ending the vow of silence comes after K H Sancheti, a noted physician from Pune, who examined Hazare here on Saturday, said the activist's blood pressure was on a higher side, which could be due to mental stress.

"Even if he is practising 'maun', his thought process continues, leading to mental tension. I feel he should end his silence," Sancheti had said.