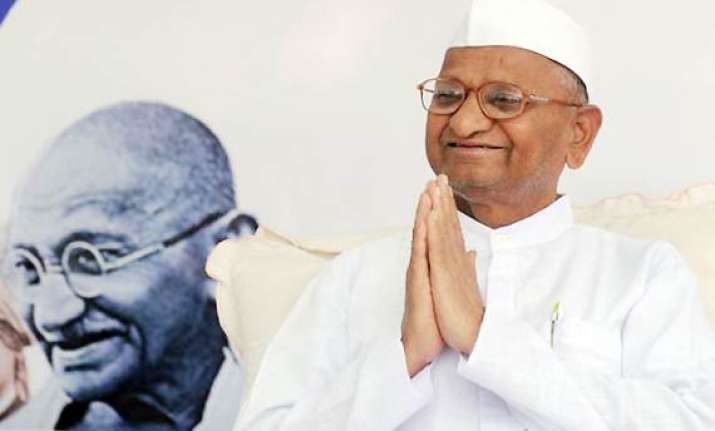 New Delhi, Aug 2: Social activist Anna Hazare on Tuesday wrote an open letter addressed to all Members of Parliament to prevent introduction of the Lokpal Bill by government slated on Thursday, saying it was "anti-poor".

Anna's letter to the MPs states: "Like many of you I have been serving my country to strengthen democracy at the grass roots. Like many of you all my efforts have been focused on reducing the sufferings of the common man, the poor farmer, worker or service person. Again like many of you I have seen from very close quarters how corruption hurts the poor most.

"It is only to protect his interests that I volunteered to be a part of the joint drafting committee. I regret to share that many issues which were addressing common man's persisting concerns have been totally overlooked in the government cleared bill.

"Introduction of such a defectively structured bill is an affront to the honorable Parliamentarians, which does not have the option of debating on some of the critical issues that we had raised for a strong anti-corruption Act.

1. A Strong Public Grievance Redressal mechanism – with penalties so that all departments can work effectively to reduce corruption, which is creating so much misery for the poor.

Inclusion of lower bureaucracy under the ambit of the Lokpal – most cases of corruption of poor, farmers, workers and general populace would be in the interaction with the lower bureaucracy. All cases of corruption even at higher level and political levels would not be possible without involvement of the lower officers.

2. Same bill should create a strong, accountable and independent Lokpal as well as Lokayuktas at state level – because many of the corruption cases impacting the poor involve state government officers.

3. Independent selection, funding and removal mechanism to ensure autonomy of function.

4. Strong effective checks and balances to ensure accountability and transparency of the Lokpal and Lok Ayuktas.

5. Many other important issues like the coverage of the PM, Judiciary, MPs in Parliament, dismissal of corrupt officers, strong punishment, empowerment along with checks and balance of Lokpal etc.

"While there are many important issues in the lokpal I write to focus and highlight the plight of the common man yet again being left out.

"It is my hope that the institution of the Parliament will continue to uphold its glorious heritage and prevent introduction of such an ANTI POOR bill by the government. Sd/ K. B. Hazare."

Meanwhile, a core commitee has been formed by Team Anna Hazare to carry forward the Lokpal movement. The core committee consists of : Anna Hazare, Arvind Kejriwal, Justice Santosh Hegde, Prashant Bhushan, Shanti Bhushan, Kiran Bedi, Swami Agnivesh, Akhil Gogoi, P V Rajagopal, Rajinder Singh, Manish Sisodia, Kumar Vishwas, Dinesh Vaghela, Arch Bishop of Delhi Vincent M Concessao, Sanjay Singh, Devinder Sharma, Darshak Haathi, Mayank Gandhi, Arvind Gaur, Navin Jaihind, Chandermohan, Prithvi Reddy.

The committee has 22 members from across the country. The committee at its meeting today fully endorsed Anna Hazare's decision to go on an indefinite fast from August 16.

Meanwhile Delhi Police has refused to allow Anna Hazare and his team to sit on fast at Jantar Mantar from August 16.

The refusal was on the grounds that duration of the protest at the site was not mentioned, while India Against Corruption says, it had clearly mentioned a month's time.

Another reason Delhi Police cited for refusing to allow the protest was that the location is inadequate for a gathering of large number of people as expected during the protest.

In reponse to this IAC has now sent another letter to the commissioner offering 5 options for the venue of the protest fast, which include Jantar Mantar Road, Boat Club, Rajghat, Ramlila Maidan and Shaheed Park .