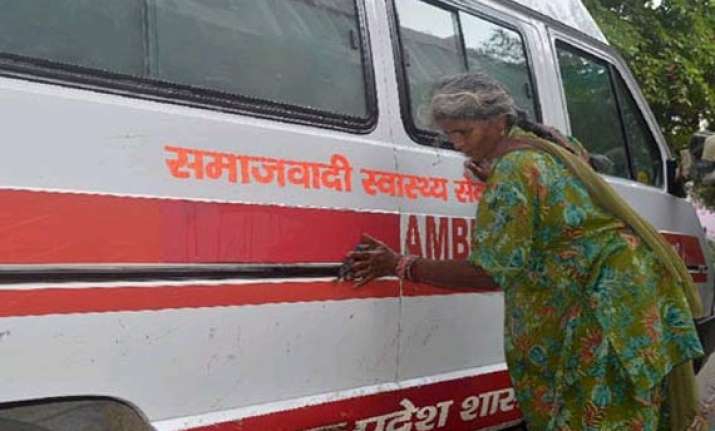 Moradabad: A heart-breaking incident came to light from Moradabad district of Uttar Pradesh which even shamed the humanity.
A fire broke out on Friday evening in the home of Ali Hasan (25), son of Sharafat Ali at Bibipur village in Chhajlet of Moradabad district.
Ali suffered 80 per cent burns and was taken to Sadar hospital by the 'Samajwadi Ambulance'.
Here, upon arrival at the hospital, the driver of the 'Samajwadi Ambulance' asked a burn victim's mother to clean the vehicle and blood-stained stretcher even before she could admit her son to emergency.
The weeping mother pleaded the staff to first let her son be admitted and then she will wash the ambulance. On this the driver unwillingly allowed her to go inside.
But even before the doctors could check her son, she was forced to leave him to clean the ambulance.
Later her son was referred to Delhi for further treatment as his condition started deteriorating.
Dr Vir Singh, who was on duty, said an inquiry will be ordered into the matter to fix accountability.
"This is condemnable. The operational and maintenance costs of the Samajwadi Ambulance are given by the government. I will raise this issue before the CMO and will seek immediate removal of such staff."
Meanwhile, villagers alleged that this is not the first time when driver of the 'Samajwadi Ambulance' has forced caretaker of a patient to clean the stretcher and the vehicle.  
The 'Samajwadi Ambulance' is a free-of-cost round-the-clock emergency ambulance service. Upon receiving a call on toll-free number 108, the ambulance will reach the patient within 20 minutes and will provide medical aid before being shifted to a hospital.
This incident has highlighted the mismanagement in the functioning of Akhilesh Yadav government's ambitious project 'Samajwadi Ambulance' in the state.