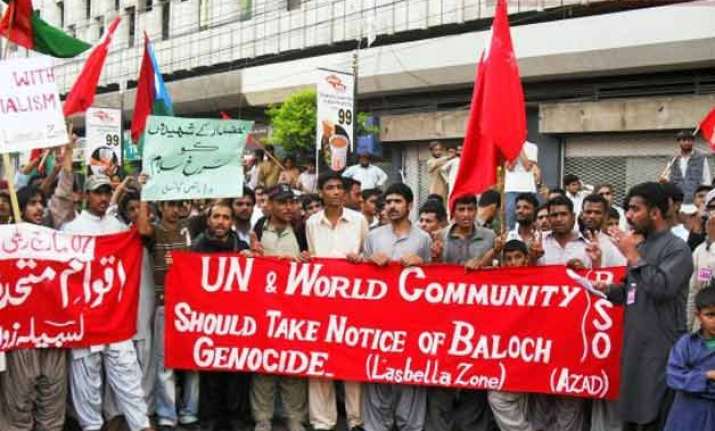 New Delhi: After exposing the human right violations in Pakistan-occupied Kashmir (PoK) by Pakistan Army, India is all set to highlight the latter's military excesses in its Balochsitan province.
New Delhi's tactical shift in Pakistan policy became public when Balochistan Liberation Organisation (BLO) representative Balaach Pardili addressed a gathering in capital on October 4, reading out a statement from BLO's exiled leader Nawabzada Hyrbyair Marri.
"I feel safe in Delhi and has the support of a section of the BJP led by R.S.N. Singh and Tejender Singh of Bhagat Singh Kranti Sena," Pardili told The Hindu.
"Balochistan is divided among three countries, Pakistan, Afghanistan and Iran. But the atrocities are taking place inside Pakistan which has conducted five military operations against the Baloch people and the last campaign that they began in 2004 has left 19,000 dead and many more displaced and missing. Pakistan also encourages the Taliban to torture the Baloch inside Afghanistan." he added.
Pardili also expressed confidence that he will succeed in creating awareness on the oppression of the Baloch people in Pakistan.
"I hope to facilitate Nawabzada Marri's visit to Delhi in near future," Pardili told The Hindu.
The London-based Nawabzada Hyrbyair Marri is the leader of Free Balochistan Movement with a militant arm, Baloch Liberation Army (BLA), and BLO, the political wing.
"We wish that India, the largest democracy, have a clear policy about Balochistan. If Pakistani officials can openly meet the Kashmiri leadership, why shouldn't India do the same? The Red Cross does not have a hotline on Balochistan despite our repeated pleas. I want India's help to start a crisis hotline with the Red Cross," Nawabzada Marri was quoted in a statement to The Hindu.
The mountainous mineral-rich province of Balochistan that borders Afghanistan and Iran faces a long-running insurgency where separatists are locked in a battle with the Pakistani Army.
According to a BBC report, "Nobody even knows how many people have have disappeared - the figures are between hundreds and several thousand. The army, paramilitaries and the government have consistently denied being responsible for violence in Balochistan, pointing instead to the myriad of armed groups operating in the region."