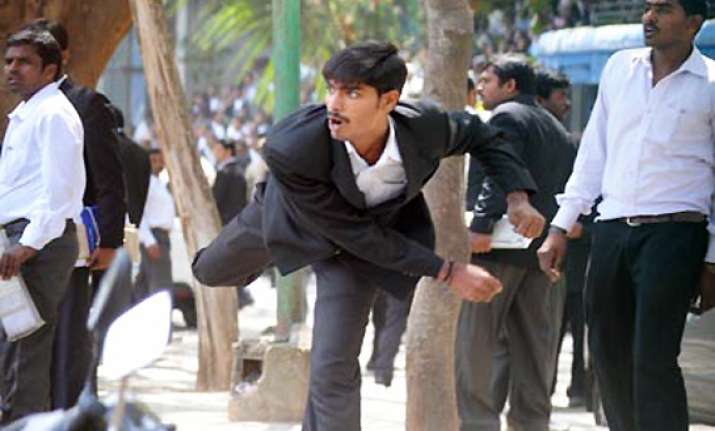 Bangalore, Mar 2: High drama was witnessed today outside the civil court here when unruly lawyers attacked mediapersons and pelted stones damaging OB vans, leaving at least 20 scribes and police personnel injured.  

A judicial probe was ordered by the state government after vehement media protests over the incident.

The court complex turned into a battle zone as the rampaging advocates targeted journalists, particularly electronic media crew, who had gathered to cover the appearance of mining baron G Janardhana Reddy before a court in an illegal mining case.

Lawyers were caught on camera hurling stones, chairs and water bottles at the media, police and public. They also attacked vehicles, including a police van, in front of a police outpost in the court premises.

It was a surcharged atmosphere as some lawyers went on an attacking spree without any provocation, identifying visual media personnel. Their cameras were snatched by the lawyers who abused them, objecting to the media presence.

Finding the situation getting out of hand, police burst teargas shells and later lathicharged the lawyers when the cops themselves became targets.

The city police promulgated prohibitory orders around the complex till tomorrow but have not made any arrest so far.

Describing the attack as 'shameful and dastardly', Chief Minister D V Sadananda Gowda announced a judicial probe and said government would not compromise on taking action against guilty lawyers.

He also said government would bear the medical expenses of the injured and fix compensation after assessing the damage to private and public property.

Before all hell broke loose, some advocates objected to the presence of journalists inside the designated court hall even before Reddy was produced and Judge B M Angadi asked the scribes to vacate.

Mediapersons staged a dharna in front of Vidhana Soudha, the state secretariat, condemning the attack and were joined by their counterparts across the state.

The lawyers turned their ire against mediapersons as they were also stated to be unhappy about the news coverage of a protest staged by them in January, which had caused a huge traffic gridlock in the nerve centre of the city and earned the public anger.