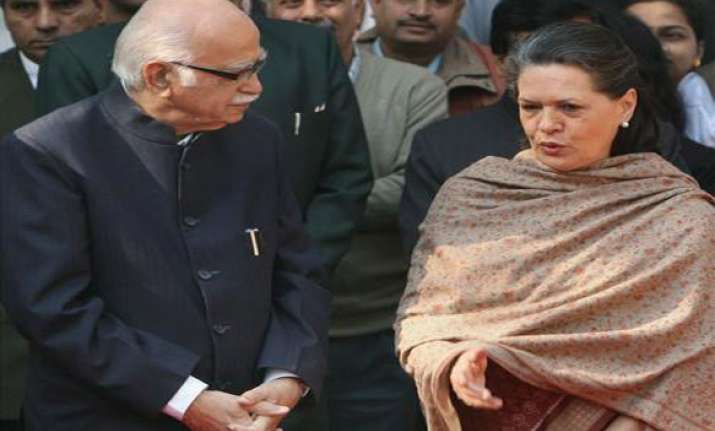 New Delhi, Feb 18 :  Senior BJP leader L K Advani has apologised to Congress President Sonia Gandhi for a party-appointed task force report, which had alleged that she and her late husband Rajiv had accounts in Swiss banks. BJP had appointed the task force on unravelling the amount of black money stashed by Indians in foreign banks and ways to bring it back.
The report had alleged that Sonia Gandhi and former Prime Minister Rajiv Gandhi were among Indians who held Swiss bank accounts. This had led Sonia Gandhi to write a letter to Advani denying the allegation.
Sources said in the letter, Gandhi had said that neither she nor her husband held Swiss bank accounts. In his reply to the Congress President's letter,
Advani expressed regret over her name and that of her late husband being mentioned in the task force report.
However, Advani also stated in his reply that the Gandhis should have denied this publicly when there were murmurs that names of her family members could figure in the report.
Advani said had she done so, the name of her family members would not have figured in the task force. The four-member task force comprising S Gurumurthy, former IB director Ajit Doval, Professor R Vadiyanathan and advocate Mahesh Jethmalani has put the figure of money stashed in safe havens to be 25 lakh crore.
On February 1, NDA leaders had released a booklet 'Indian Black Money Abroad in Secret Banks and Tax Havens', the second report of the task force appointed by the BJP.
Meanwhile, the BJP said that Gandhi should have issued a rebuttal or a denial earlier as several magazines and journals had made these allegations against her family members.
"The letter of L K Advani to Sonia Gandhi expressing regret over the pain caused to her on allegations of foreign bank accounts in her family members names has to be seen in the proper context," BJP spokesman Ravi Shankar Prasad told reporters. He said many magazines and journals published from abroad, including a magazine from Switzerland had published such allegations from time to time. "In spite of the serious nature of these allegations there was no rebuttal or denial. Therefore, in the absence of any firm denial, these allegations carried some validity," he said.
The BJP maintained that Advani has in his public utterances gently reminded the Congress president that if she felt strongly about these allegations she should issue a firm denial.
"Now for the first time after so many years, Gandhi has written to Advani denying the existence of any such foreign bank account. In the light of this belated denial, Advani has expressed his regret," Prasad said. PTI