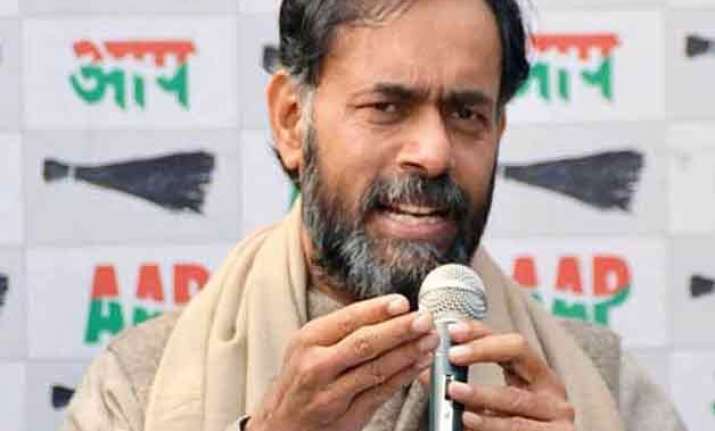 Gurgaon: The Haryana unit of Aam Aadmi Party today started its 'Jai Kisan Abhiyan' from Gurgaon in protest against the recently-introduced "anti-farmer" land ordinance, and shortage of power and urea in the state.  
Scores of AAP activists, led by state in-charge Yogendra Yadav, gathered at Kamla Nehru Park here and then marched to the residence local MP and Union Minister Rao Inderjit Singh at Old DLF Colony.
Addressing the gathering at Kamla Nehru Park, Yadav said the central government had passed an ordinance nullifying many pro-farmers rules and making the Land Acquisition Act of 2013 "unjustifiable" for farmers.
AAP said the Gurgaon MP should oppose the "anti-farmer" ordinance when it comes for discussion in Parliament.  The state government has also changed rules in awarding compensation for land thereby reducing the amount to be given to farmers for acquiring land, Yadav claimed.  The state government should enhance the compensation for land, he demanded.
He alleged that the state government has created an artificial scarcity for urea which caused chaos and havoc for farmers heavily dependent on the fertiliser.  The urea issue clearly smells of conspiracy to provide undue benefits to vested interests or it may be a clear case of negligence, he said.
A thorough investigation should be conducted into the urea scandal, Yadav demanded.  More than one thousand activists had gathered from various parts of Gurgaon, Mewat and Rewari and even some assembly constituencies of Delhi. Two Delhi MLAs - Sukhvir Singh Dalal from Mundka and Naresh Yadav from Mehrauli - also attended the gathering.
The activists then handed over a memorandum to Kulbhushan Bhardwaj, a local BJP leader, to be submitted to Gurgaon MP Rao Inderjit Singh, who is the Union Minister of State for Statistics and Programme Implementation.