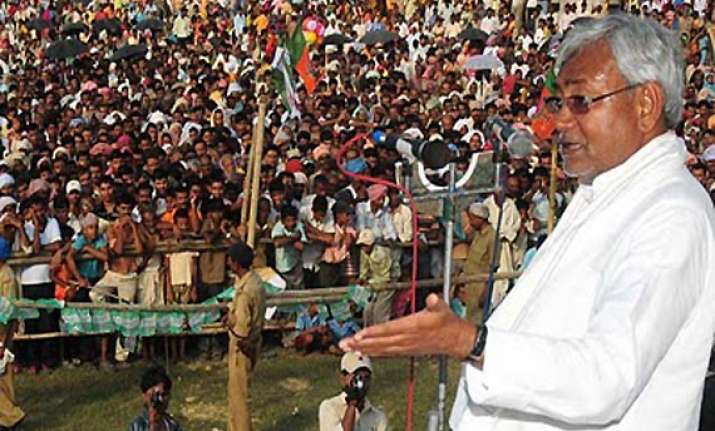 Nalanda: Twenty-two candidates, the highest in Bihar, are in the fray in this home district of Chief Minister Nitish Kumar where polling for the Lok Sabha seat will be held tomorrow.
The seat has an electorate of 19.49 lakh, including 5.5 lakh Kurmi voters. Kumar, a Kurmi, will be eyeing the votes of the community for his party's candidate.  
He has been on a whirlwind campaign to ensure a win for the JD-U nominee and sitting MP Kaushalendra Kumar, who is up against joint candidates fielded by LJP-BJP and Congress-RJD combines.
A day before campaigning ended yesterday, Kumar addressed eight rallies in different parts of Nalanda, seeking votes for Kaushalendra.
LJP has nominated Satyanand Sharma and Congress Ashish Ranjan Sinha, a former state police chief, while AAP has fielded Pranab Prakash.
Though BJP's Prime Ministerial candidate Narendra Modi has addressed several rallies in Bihar, Nalanda did not find a place in his itinerary.
In his absence, state leaders like Sushil Kumar Modi, leader of Opposition in Assembly Nand Kishore Yadav and C P Thakur, besides LJP leaders, have been canvassing for Sharma.  
As part of their understanding, BJP gave up the seat for Ram Vilas Paswan's LJP and, likewise, RJD left the seat for Congress to contest.
Sinha, who became a RJD member months after retirement from police service in 2009, formally joined Congress last month. Sinha, a Kurmi, was DGP when Kumar took charge of the state in November 2005 but later had soured relations with him.
He is banking on the three lakh Yadav and around 1.5 lakh Muslim voters in the constituency.
LJP's Sharma is an Extremely Backward Class candidate and is hoping to make a dent in the vote bank of JD-U.  
Nalanda had sent veteran socialist leader George Fernandes to Lok Sabha thrice, in 1996, 1989 and 1999. Nitish had won from here in 2004.