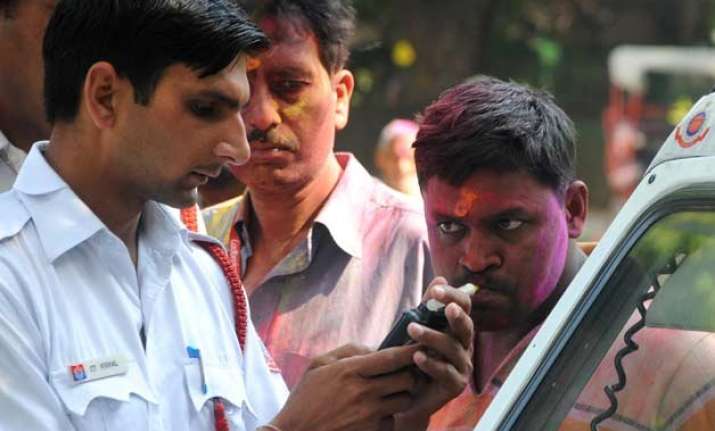 New Delhi: As people celebrated Holi here on Friday with enthusiasm, the Delhi Police booked at least 5,500 vehicles for various traffic violations, including over 1,100 revellers who were driving under the influence of alcohol.
"A total of 5,500 challans were issued till 5 p.m. today (Friday). Most of the people were drunk drivers," Special Commissioner of Police (Traffic) Muktesh Chander said.
A total of 1,100 people were challaned for drunken driving while 590 were challaned whose vehicles were driven by drunk men.
Also 438 vehicles were challaned for traffic signal jumping and 418 revellers were fined for not wearing seat belts while driving. A total of 774 vehicles were impounded from different places, police said.
The police received over 2,000 calls at the Police Control Room (PCR) and attended to around 500.
At least 1,383 vehicles were challaned in 2014 while at least 10,339 prosecutions were made in 2013.
On Friday, the police had made elaborate traffic arrangements to ensure safety of motorists on roads and check incidents of drunken driving, over-speeding, dangerous driving, triple riding, minor driving, driving and riding without helmet and other traffic offences.
Special checking teams with alcometres were deployed at major intersections to detect and prosecute violations.
Over 200 special Traffic Police checking teams were spread all over Delhi to check drunken driving.