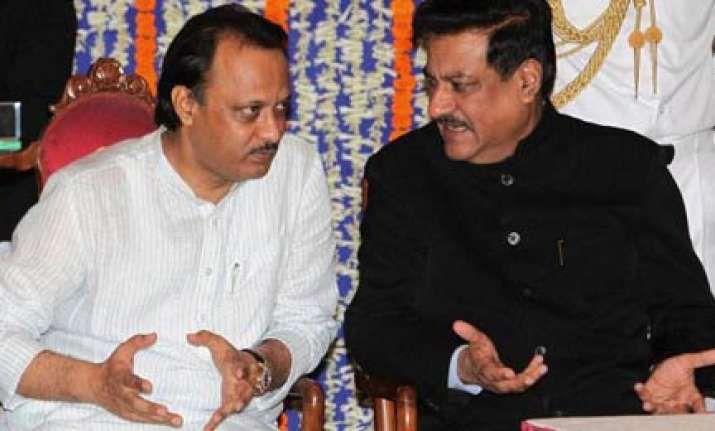 Mumbai, Nov 19: Maharashtra Chief Minister Prithviraj Chavan today expanded his eight-day-old ministry inducting 29 more ministers, including 19 of Cabinet rank, taking its strength to 40 with the Congress bringing in six new faces.
Congress' ally NCP has retained its old team in the 40-member Council of Ministers which has struck a regional balance. The NCP has not dropped any minister from the previous Ashok Chavan government.
Former chief minister and Congress leader Narayan Rane were among the Cabinet ministers who were sworn in.
Congress leader Ramesh Bagve from Pune, who was Minister of State for Home in the Chavan ministry, were among four ministers who did not figure in the ministry expansion.
Prithviraj Chavan did not specify when he will fill the three vacancies from the Congress quota. Maharashtra can have upto 43 ministers with Congress and Sharad Pawar's NCP adhering to the 23:20 formula.
Besides Bagve, Subhash Zanak, who was the minister for women and child welfare with Cabinet rank, Minister of State for Power and Finance Vijay Waddetiwar from Vidarbha and Minister of State for Public Works Abdul Sattar from Marathwada have not found a berth so far. Zanak, who hails from Vidarbha, had recently added 'Patil' to his name.
Governor K Sankaranarayanan administered the oath of office and secrecy to the new ministers at the Raj Bhavan.
Last week, nine NCP ministers had taken oath along with the Chief Minister and Deputy CM Ajit Pawar.
Of the total 19 cabinet ministers sworn in today, 14 are from Congress and five from NCP.
Varsha Gaikwad and Padmakar Valvi, who were junior ministers in the earlier Ashok Chavan-led government, were elevated to Cabinet rank. Deputy Speaker Madhukar Chavan and Sanjay Deotale (both Congress) are the new faces.
Of the 10 Ministers of State sworn in, five were from Congress including four newcomers--Satej Patil, Rajendra Mulak, Rajendra Gavit and Dattatreya Sawant. The rest were from the NCP.
The Chief Minister said the first meeting of the Council of Ministers will be held tomorrow.
The Congress list of Cabinet Ministers include Narayan Rane, Patangrao Kadam, Shivajirao Moghe, Radhakrishna Vikhe Patil, Harshwardhan Patil, Balasaheb Thorat, Rajendra Darda, Nasim Khan, Suresh Shetty, Nitin Raut, Madhukar Chavan, Padmakar Valvi, Varsha Gaikwad and Sanjay Deotale.
The NCP list has Ramraje Naik Nimbalkar, Anil Deshmukh, Rajesh Tope, Babanrao Pachpute and Hassan Mushrif.
The Revenue portfolio has been taken away from Narayan Rane. Balasaheb Thorat has been made Revenue minister, while Rane has been given the industry portfolio.
Ajit Pawar gets Finance, Power and Energy, R R Patil retains Home, Chhagan Bhujbal gets PWD and Sunil Tatkare gets Irrigation.