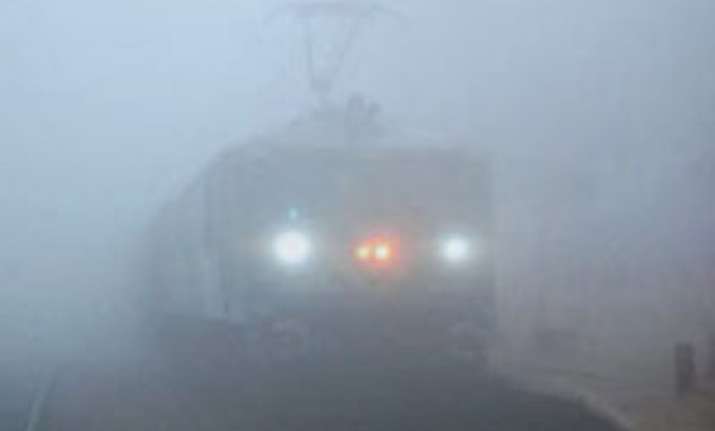 New Delhi, Jan 5: Air and train services were badly disrupted this morning after dense fog enveloped large parts of northern India since Wednesday night.

Northern Railway has cancelled 28 trains, rescheduled 10 trains and partially cancelled 12 trains.  Nearly 53 trains are running late, says a press release.

(details of cancelled/rescheduled trains given below)

Delhi was blinded by dense fog on a chilly morning today slowing down traffic on roads and disrupting air and rail traffic.

The minimum temperature was recorded at 8.6 degree Celsius, two degrees above normal, early this morning, the MeT Department said.

Fog descended on the capital this morning and the visibility fell to near zero level, they said.

The dense fog had some effect on the operations at the Indira Gandhi International Airport where around 15 flights were delayed.

Road traffic was slowed down due to fog and drivers switched on fog lights to negotiate through Delhi streets.

The Weatherman has predicted thunderstorms with rain tomorrow with temperature oscillating between 11 and 20 degree Celsius.

Shimla : The hills and valleys of Himachal reeled under piercing cold as sky remained heavily overcast and day temperatures dipped in most parts of the state.

Heavy overcast during the day forced people to stay indoors as mercury dipped to 0.1 deg C in Shimla after mild rains this evening.

Manali recorded minimum temperature at zero degree while Solan, Bhuntar, Sundernagar and Una recorded a low of 0.6 deg C, 1.6 deg C and 2.7 deg C, 3.4 deg C respectively.

The Pangi tribal valley in Chamba district was cut off from the rest of the state following heavy snowfall on the Saach Pass. The other route via Rohtang pass was earlier closed due to heavy snow.

Meanwhile, the higher hills in tribal area of Chamba, adjoining Pir Panjal hills in Jammu and Kashmir have reportedly received intermittent snowfall since today morning.

The high-altitude passes such as Jalsu, Chobia and Kugti had also been closed due to heavy snowfall, reports said.

The tribal areas of Kinnaur, Lahaul and Spiti and Pangi shivered under cold wave conditions with minimum temperatures ranging between minus 12 and minus 23 degree while the day temperatures hovered around the freezing point.

The local MeT office has predicted widespread snow, rains and thunderstorms at many places in the state with further fall in mercury.

Srinagar :  Fresh snowfall and rains lashed Kashmir bringing respite to residents from the month-long intense cold wave as the night temperatures rose by several degrees across the region.

Rains lashed the summer capital here as the minimum night temperature rose from minus 3.1 degrees Celsius to 0.7 degrees above the freezing point, a MeT official said.

Srinagar recorded 0.2 mm rainfall overnight, he said. High altitude areas of the Valley, including the famous skiing resort of Gulmarg, are witnessing fresh snowfall since last afternoon.

The official said Gulmarg resort, 52 kms from summer capital Srinagar, received two inches of snow and remained the only exception in the Valley where the minimum night temperature dipped.

Gulmarg, which is the star attraction for tourists visiting the Valley during winters, recorded a minimum temperature of minus 9.1 degrees Celsius, a decrease of 1.9 degrees from yesterday.

Snowfall and rains also lashed parts of north and south Kashmir, the official said.

He said the mercury in south Kashmir gateway town of Qazigund rose to zero degree Celsius and recorded 4.1 mm rain and snowfall.

The north Kashmir frontier town of Kupwara also recorded an increase in the minimum temperature as the rains and snowfall also lashed the region.

Kupwara town recorded 6.0 mm rains and snowfall, he said. The frontier areas, located close to the Line of Control, Gurez, Tulail received two inches of snow, Z-gali received six inches of snow, and Furkian Top received four inches of snow.

The Pahalgam resort in south Kashmir where mercury rose by 1.5 degrees to settle at minus 1.6 degrees Celsius, recorded 6.0 mm rain and snowfall, the official said.

The weather department has forecast moderate to heavy rains and snowfall in parts of the Valley over the next two days.

The department also issued an advisory warning land and air transport systems of the state may be disrupted as the western disturbances, which cause rains and snowfall, over the state are likely to intensify.

Kashmir Valley had been reeling under intense cold since start of 'Chillai Kalan', a forty-day period of extreme chilling weather, on December 21, has witnessed this periods first snowfall.

Meanwhile, the minimum temperature in Leh town of remote Ladakh region rose by nearly seven degrees to settle at minus 6.0 degrees Celsius, while in nearby Kargil town the night temperature was recorded at minus 12.4 degrees Celsius, the official said.
NORTHERN  RAILWAY
NEW DELHI
 
 
 
 
 
 
Dated: 05.01.2012                            Time 13.15 Hrs.
RESCHEDULING OF TRAINS DUE TO FOG
TRAIN NO.
TRAIN NAME
FROM
TO
SCH. TIME
RE.SCH. DEP(HRS.)
12398
MAHABODHI EXP
NEW DELHI
GAYA
14.10
18.10
12310
RAJDHANI EXP
NEW DELHI
RAJENDER NAGAR
17.10
18.00
12394
SAMPOORAN KRANTI EXP
NEW DELHI
RAJENDER NAGAR
17.30
19.00
12302
RAJDHANI EXP
NEW DELHI
HOWRAH
17.00
19.15
12314
SEALDAH RAJDHANI EXP
NEW DELHI
SEALDAH
16.30
19.30
12034
SHATABDI EXP.
NEW DELHI
KANPUR CTL.
15.55
17.10
12392
SHARAMJIVI EXP.
NEW DELHI
RAJGIR
13.15
15.50
12459
INTERCITY EXP
NEW DELHI
AMRITSAR
13.35
14.30
12412/10
GONDWANA EXP.
H.NIZAMUDDIN
JABALPUR/RAIGARH
15.25
18.50
14258
KASHI VISHWANATH EXP.
NEW DELHI
VARANASI
11.40
12.50
Passengers may check latest status of their train from Railway Enquiry No. 139, Railways website or New Delhi Fog Helpline No. 011-23747110
LATE RUNNING OF TRAINS MORE THAN ONE HOURS DUE TO FOG IN DELHI AREA
TRAIN NO.
TRAIN NAME
FROM
TO
ARRIVAL
LATE BY  (HRS.)
12189
MAHAKAUSHAL EXP
JABALPUR
H.NIZAMUDDIN
11.35
2.45
14083 OF 4.1.
MAHANANDA EXP
ALIPUR DUAR
DELHI
18.10
19.30
13483
FARKAKHA EXP
MALDA TOWN
DELHI
4.30
13.00
12401
MAGADH EXP
ISLAMPUR
NEW DELHI
6.00
8.00
12501
PORVOTAR S.KRANTI
GUWAHATI
NEW DELHI
13.00
7.00
12561
SWATANTRTA S.EXP
DARBHANGA
NEW DELHI
12.30
5.30
12801
PURUSHOTTAM EXP.
PURI
NEW DELHI
4.50
9.15
12397
MAHABODHI EXP.
GAYA
NEW DELHI
5.00
12.15
12555
GORAKHDHAM EXP.
GORAKHPUR
NEW DELHI
5.45
7.30
12565
BIHAR S.K. EXP.
DARBHANGA
NEW DELHI
5.30
6.30
14055
BRAHAMPUTRA MAIL
DIBRUGARH
DELHI JN.
5.55
7.30
12451
SHARAM SHAKTI EXP.
KANPUR
NEW DELHI
65.20
7.00
12553
VAISHALI EXP.
BARAUNI
NEW DELHI
6.30
7.30
12427
REWA EXP.
REWA
NEW DELHI
6.45
11.00
12417
PRAYAG RAJ EXP.
ALLAHABAD
NEW DELHI
6.55
7.00
12225
KAFIYAT EXP.
AZAMGARH
DELHI JN.
7.00
9.45
12381
PURVA EXP.
HOWRAH
NEW DELHI
7.20
7.00
12309
RAJDHANI EXP.
RAJENDER NAGAR
NEW DELHI
7.35
7.00
12559
SHIV GANGA EXP.
VARANASI
NEW DELHI
7.40
7.00
12367
VIKRAMSHILA EXP.
BHAGALPUR
ANAND VIHAR
7.40
7.00
12393
SAMPURAN KRANTI EXP.
RAJENDER NAGAR
NEW DELHI
8.35
8.30
12301
RAJDHANI EXP.
HOWRAH
NEW DELHI
9.55
4.30
12423
RAJDHANI EXP.
DIBRUGARH
NEW DELHI
10.10
4.30
12313
RAJDHANI EXP.
SEALDAH
NEW DELHI
10.20
4.30
22811
RAJDHANI EXP.
BHUBANESHWAR
NEW DELHI
10.35
4.45
12439
RAJDHANI EXP.
RANCHI
NEW DELHI
10.50
4.15
12817
JHARKHAND S.J. EXP.
HATIA
DELHI JN.
14.00
5.00
12419
GOMTI EXP.
LUCKNOW
NEW DELHI
14.00
4.30
12033
SHATABDI EXP.
KANPUR
NEW DELHI
11.10
3.45
14205
FAIZABAD EXP.
FAIZABAD
DELHI JN.
9.35
4.00
14673
SHAHID EXP.
JAYANAGAR
DELHI JN.
11.50
5.00
15609
AVADH ASSAM EXP.
GUWAHATI
DELHI JN.
15.50
3.00
12391
SHARAM JIVI EXP.
RAJGIR
NEW DELHI
5.10
5.15
14257
K.V. EXP.
VARANASI
NEW DELHI
6.10
5.30
19604
SULTANPUR-AHMEDABAD XP.
SULTANPUR
DELHI JN.
6.25
5.30
14207
PADMAWAT EXP.
PARTAPGARH
DELHI JN.
7.10
3.15
12121
M.P. S.K. EXP.
JABALPUR
H.NIZAMUDDIN
9.05
2.15
4054
JAMMU TAWI EXP.
JAMMU TAWI
ANAND VIHAR
5.40
5.45
12904
GOLDEN TEMPLE MAI.
AMRITSAR
H.NIZAMUDDIN
7.05
4.30
14315
INTERCITY EXP.
BAREILLY
NEW DELHI
10.05
2.45
14311
ALA HAZRAT EXP.
BAREILLY
DELHI JN.
11.25
2.15
12629
KARNATKA S.K. EXP.
YASWANTPUR
H.NIZAMUDDIN
9.15
3.15
12627
KARNATKA EXP.
BANGALORE
NEW DELHI
10.35
2.30
12192
N.DELHI-JABALPUR EXP.
JABALPUR
NEW DELHI
11.35
2.00
12155
BHOPAL EXP.
HABIBGANJ
H.NIZAMUDDIN
8.05
3.15
12723
A.P. EXP.
HYDERABAD
NEW DELHI
9.05
3.00
12917
GUJRAT S.K. EXP.
AHMEDABAD
H.NIZAMUDDIN
10.40
1.30
12437
RAJDHANI EXP.
SECUNDERABAD
H.NIZAMUDDIN
10.20
2.00
12715
SACHKHAND EXP.
NANDED
NEW DELHI
13.10
2.00
12391
SHARAMJIVI EXP.
RAJGIR
NEW DELHI
5.10
6.15
14207
PADMAWAT EXP.
PARTAPGARH
DELHI JN.
7.10
4.30
15273
SATYAGRAH EXP.
RAXAUL
DELHI JN.
9.20
3.30
14646
SHALIMAR EXP.
JAMMU TAWI
DELHI JN.
10.50
2.00
CANCELLATIONOF TRAINS DUE TO FOG
TRAIN NO.
TRAIN NAME
FROM
TO
CANCELLATIONFROM - TO
54307
MORADABAD - DELHI PASS
MORADABAD
DELHI
CANCELLED TILL FURTHER ADVICE
12873
JHARKHAND S.J. EXP.
HATIA
ANAND Vihar
 
31.01.12
12874
JHARKHAND S.J. EXP.
ANAND VIHAR
HATIA
 
01.02.12
13'
JANATA EXP
HOWRAH
DELHI JN.
 
31.01.12
13040
JANATA EXP
DELHI JN.
HOWRAH
 
02.02.12
14005
LICHHAVI EXP.
SITAMARHI
ANAND VIHAR
 
02.02.12
14006
LICHHAVI EXP.
ANAND VIHAR
SITAMARHI
 
30.01.12
14309
UJJAINI EXP.
UJJAIN
DEHRADUN
 
01.02.12
14310
UJJAINI EXP.
DEHRADUN
UJJAIN
 
31.01.12
14043
GARHWAL EXP.
KOTDWAR
DELHI JN.
 
31.01.12
14044
GARHWAL EXP.
DELHI JN.
KOTDWAR
 
31.01.12
14115
ALLAHABAD- HARIDWAR EXP.
ALLAHABAD
HARIDWAR
 
31.01.12
14116
HARIDWAR-ALLAHABAD EXP.
HARIDWAR
ALLAHABAD
 
01.02.12
14265
VARANASI-DEHRADUN EXP.
VARANASI
DEHRADUN
 
31.01.12
14266
DEHRADUN-VARANSI EXP.
DEHRADUN
VARANASI
 
01.02.12
14307
PRAYAGRAJ-BAREILLY EXP.
PRAYAG
BAREILLY
 
01.02.12
14308
PRAYAGRAJ-BAREILLY EXP.
BAREILLY
PRAYAG
 
31.01.12
15011
LUCKNOW-CHANDIGARH EXP.
LUCKNOW JN.
CHANDIGARH
 
31.01.12
15012
LUCKNOW-CHANDIGARH EXP.
CHANDIGARH
LUKCNOW JN.
 
01.02.12
19771/19781
JAIPUR-AMIRTSAR EXP.
JAIPUR
AMRITSAR
 
31.01.12
19772/19782
JAIPUR-AMIRTSAR EXP.
AMRITSAR
JAIPUR
 
01.02.12
14211
INTERCITY EXP
AGRA CANTT.
NEW DELHI
 
01.02.12
14212
INTERCITY EXP
NEW DELHI
AGRA CANTT.
 
31.01.12
12460
INTERCITY EXP
AMRITSAR
NEW DELHI
 
31.01.12
14681
INTERCITY EXP
NEW DELHI
JALANDHAR CITY
 
31.01.12
14723
KALINDI EXP.
KANPUR
BHIWANI
 
31.01.12, TUE, THU, FRI, SUN
14724
KALINDI EXP.
BHIWANI
KANPUR CTL.
 
31.01.12, MON, WED,THU, SAT
14323/24
N.-DELHI-ROHTAK-N. DELHI EXP.
N.DELHI/ROHTAK
ROHTAK/N.DELHI
 
CANCELLED ON DAT
TRAINS PARTIALLY CANCELLED DUE TO DENSE FOG
TRAIN NO.
TRAIN NAME
FROM
TO
REMARK
13112
LAL QUILA EXP.
DELHI JN.
KOLKATTA
Cancelled between Delhi Jn.-Kanpur Ctl. From 03.12.11 to 02.02.12
13111
LAL QUILA EXP.
KOLKATA
DELHI JN.
Cancelled between Kanpur Central-Delhi Jn. from 02.12.11 to 31.01.12
14217
UNCHAHAR EXP.
ALLAHABAD JN.
CHANDIGARH
Kanpur Cntl. -Chandigarh From 01.12.11 to 31.01.12
14218
UNCHAHAR EXP.
CHANDIGARH
ALLAHABAD JN.
Chandigarh-Kanpur Cntl. From 01.12.11 to 31.01.12
64953
MATHURA JN - NIZAMUDDIN PASS
MATHURA
NIZAMUDDIN
Cancelled between Palwal - Nizamuddin
13008
UDYAN ABHA EXP.
SRIGANGANAGAR
HOWRAH
Cancelled between Sriganganagar-Mugulsaraifrom 03.12.11 to 02.02.12
15003
CHAURI CHAURA EXP.
KANPUR ANWARGANJ
GORAKHPUR
Cancelled between Kanpur Anwarganj-Allahabad from 03.12.11 to 01.02.12
14711
INTERCITY EXP
HARIDWAR
SRIGANGANAGAR
Cancelled between Haridwar-Saharanpurfrom 2.12.11 . to 31.1.12
14712
INTERCITY EXP
SRIGANGANAGAR
HARIDWAR
Cancelled between Saharanpur-Haridwar from 2.12.11 to 31.1.12
15004
CHAURI CHAURA EXP.
GORAKHPUR
KANPUR ANWARGANJ
CANCELLED BETWEEN ALLAHABAD-KANPUR ANWARGANJ FROM 02.12.11 TO 31.01.12
54075/76
SHAHJAHANPUR - DELHI PASS
SHAHJHANPUR
DELHI
Cancelled between Shahjahanpur - Sitapur City
13007
UDYAN ABHA EXP.
HOWRAH
SRIGANGANAGAR
Cancelled between Mughusari-Sriganganagar from 01.12.11 to 31.01.12