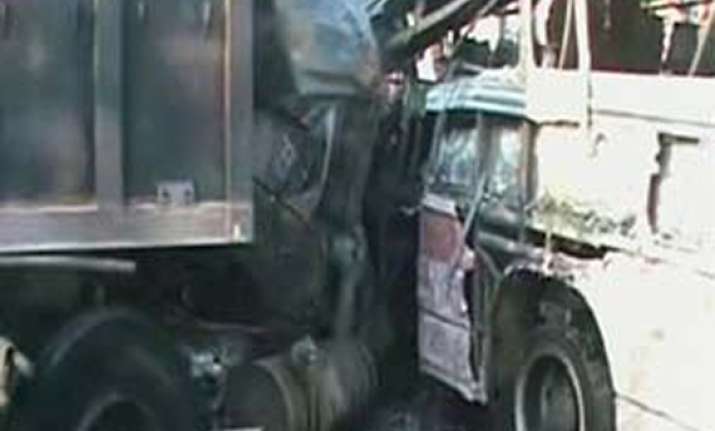 Jaipur, June 16 : Twenty-five people were killed and 61 others injured in three road mishaps in different parts of Rajasthan, police said today.
Nineteen passengers of a private bus were killed and 37 injured when the bus collided with a truck and caught fire near Sanchore area in Jalore district this evening.
Of the 19 passengers, four succumbed to their injuries in various hospitals of the district.
The bus, which was on its way to Barmer from Sanchore, met with the mishap on a highway in Siwana area.  
"Those who could manage to jump out of the badly damaged bus survived, but those who were stuck inside the bus were killed," additional district collector C L Meena told PTI.  
The flames were put out with the efforts of fire-tenders and locals, he said, adding that the bodies were shifted to a nearby hospital.
The injured are admitted in various hospitals in the district, Meena said.
In an another incident in Bikaner, four persons were killed and 23 injured when a bus with wedding party overturned in the wee hours today.
The bus was returning to the groom's village after the wedding at Hiran Camp when the mishap occurred under Doongargarh police station circle.
Two women were killed and a man injured when a truck hit their motorcycle near Bagru area last night in Jaipur, police said.