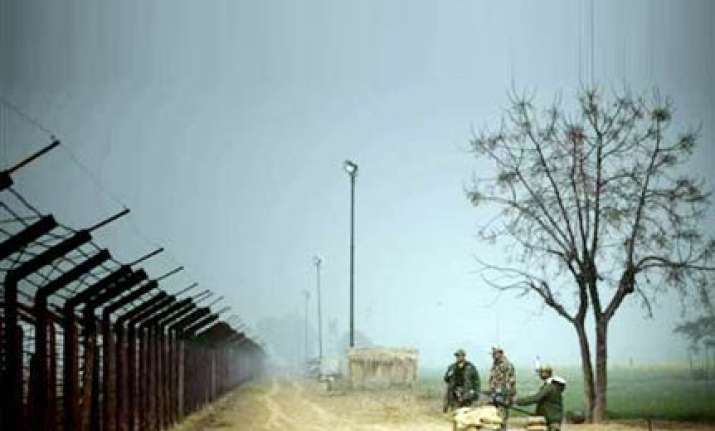 Jammu/Srinagar, Oct 27: In two ceasefire violations today, Pakistani troops today pounded Indian posts with mortar bombs and rockets and fired indiscriminately along the Line of Control (LoC) in Poonch and Uri sectors in Jammu and Kashmir .
Today's ceasefire violations are the eighth in less than a month along the LoC in J and K with the last incursion on Sunday.
No casualties among the Indian troops were reported in today's incidents unlike during the ceasfire violation on Sunday when army jawan Moray Sehdev of 17 Mahar Regiment was killed after Indian posts were targeted with rockets in the Krishnagati sub-sector.
Armed with heavy guns and rocket launchers, Pakistani troops shelled Indian forward posts along LoC in Krishnagati sub-sector of Poonch district around 1630 hours, Brigadier General Staff (BGS), 16 Corps, Brig Satesh Dua told PTI in Jammu .
Two to three posts came under unprovoked shelling and firing, he said.
Indian troops guarding the LoC took position and retalaited leading to heavy exchanges till late in the evening, he said.
Over 20 to 25 mortar bombs and rockets were fired on Indian side, he said, adding there was no casualties among the Indian troops.
Pakistani troops fired from their Chuha, Pimple and Daku posts and targeted Indian forward posts of Kranti, Kripan-1, Chajja and Kripan-2 posts.
The army believes that ceasfire violation is a diversionary tactic to facilitate infiltration of militants from across the LoC before the onset of winter snow which blocks the Himalayan mountain passes.
In the second ceasefire violation which was in the Valley, Pakistani troops fired towards Indian positions in Uri sector by resorting to unprovoked firing, an army spokesman said.
"Pakistani troops resorted to unprovoked firing towards our positions in Uri sector this evening," the spokesman said in Srinagar . PTI