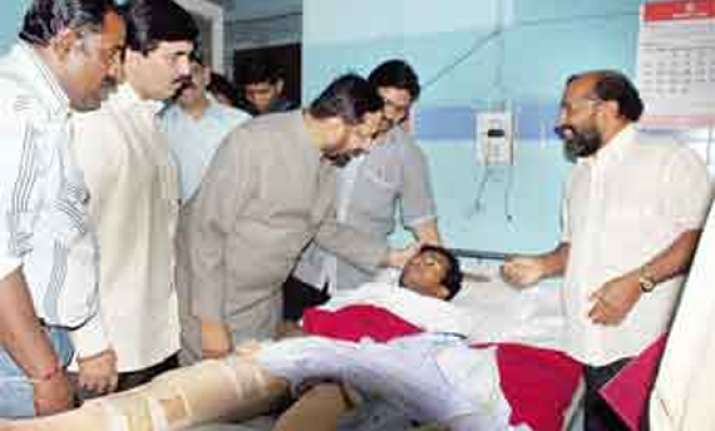 Pune, Feb 5: Commonwealth Games scam accused and MP Suresh Kalmadi returned to his hometown Pune on Saturday evening to a warm welcome from his admirers, mostly Congress supporters, who chanted slogans like 'Sabse Bada Khiladi, Suresh Kalmadi', reports Pune Mirror.

The crowd outside Pune Airport chanted slogans as  Kalmadi made his way back home. Out on bail,  he went straight to Sassoon hospital.

The people who gathered outside Pune's Loegaon Aiport  were mostly congress candidate and supporters.


The supporters had  placards and banners to welcome Kalmadi, but there was not a single Congress party flag to be seen among the crowd.

As the crowd grew in number, the police closed the gates for security purposes and stopped letting people through.

To avoid tension, police allowed Kalmadi to leave the airport from the 'In' gate where he got into an SUV.

As he popped out of the sun roof and waved at the people gathered, chants of 'Sabse bada khiladi, Suresh Kalmadi', brought a smile to the tainted politician.


He made his way out of the airport straight to Sassoon General Hospital, where he visited Praffula Nair, who was injured by the bus driven by the berserk Santosh Mane. MLA Ramesh Bagwe, corporator Deepak Mankar and ex-corporator Dutta Sagre accompanied Kalmadi to Sassoon.

Kalmadi seemed hopeful of joining in the campaign for the Pune Municipal Corporation (PMC) elections.

When asked whether he would participate in the elections, Kalmadi said, "I have been part of the Pune constituency for a long time. I will see," adding that he would talk about it later.