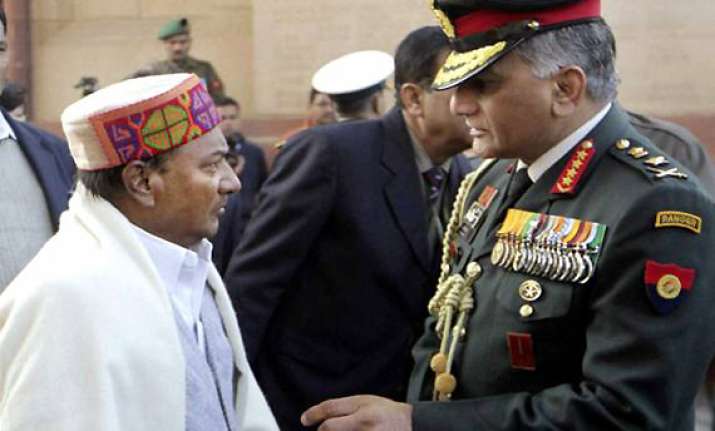 New Delhi, Jan 17: Embarrassed by the unprecedented action of Army Chief Gen V K Singh in moving the Supreme Court over the issue of his age, the government was on Tuesday night finalising its strategy with Prime Minister Manmohan Singh consulting senior ministers.  

There was speculation that Gen Singh may be asked to proceed on leave pending the apex court's view on his petition. But there was no confirmation of such a course from the ministry of defence.

The government took the expected step of filing a caveat in the Supreme Court requesting to be heard before passing any order on the writ petition filed by Gen Singh on Monday challenging the defence ministry's decision not to accept his position that he was born in 1951.

Defence minister A K Antony and law minister Salman Khurshid held a meeting with the Prime Minister to discuss the pros and cons of the Army Chief's action. There was no official word on what the government's strategy would be.

Government on Tuesday moved the Supreme Court with a caveat on Army Chief Gen V K Singh's petition on the age row as Prime Minister Manmohan Singh discussed the issue with defence minister A K Antony.

Even as it approached the apex court with the petition that it be heard before any order is passed, the government appeared to be waiting with bated breath on how the court proceeds on Gen Singh's petition that may come up for hearing on Friday.

Meanwhile, defence secretary Shashikant Sharma, who was in Malaysia on a two-day visit, was called back on Tuesday in view of the developments that may have taken the government by surprise.

Antony met the Prime Minister to discuss the Army Chief's action taken on Monday, sources said.

All eyes are now on the Supreme Court even as some legal experts were of the view that Gen Singh should have approached Armed Forces Tribunal for redress of his complaint that his date of birth be taken as May 10,1951 and not as May 10,1950.

The apex court will be hearing on Friday a petition filed by The Grenadiers Association, Rohtak Chapter, in support of Gen Singh. It remains to be seen as to whether the court admits the petition filed by Gen Singh under Article 32 of the Constitution guaranteeing fundamental rights.