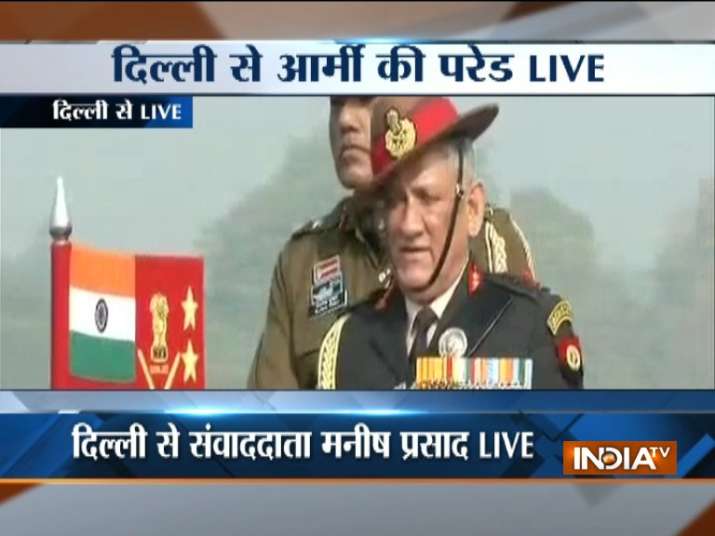 Army Chief General Bipin Rawat on Monday once again slammed Pakistan for violating ceasefire along the Line of Control (LoC), and providing safe haven to terrorists, saying that the forces will take "stronger steps" against the enemies if they are compelled to do so. 
"Ceasefire violations by Pakistan happen frequently, to which we respond effectively. We will take even stronger steps against our enemies if we are compelled to do so," said Bipin Rawat. 
Addressing the nation on the occasion of the 70th Army Day, Rawat said that Pakistan Army helps terrorists in sneaking into Indian territories, and that the Army will take stricter action if they are forced to do so. 
Rawat also said that the intelligence-based and people-friendly operations carried out by the security forces in the north-east have managed to limit terrorism to a great extent. 
Referring to the various social media campaigns run by terror groups from across the border to incite the youth against the security forces, the Army Chief cautioned the people to use it carefully. 
Chief of Army Staff Bipin Rawat, Chief of the Naval Staff Sunil Lanba, and Air Chief Marshal B S Dhanoa paid tribute to India's bravehearts at Amar Jawan Jyoti on the 70th Army Day. 
On the occasion, Prime Minister Narendra Modi took to Twitter to extend greetings to the soldiers and their families and paid salute to the army. 
"On Army Day, I convey greetings to the soldiers, veterans and their families. Every citizen of India has unwavering trust and pride in our Army, which protects the nation and is also at the forefront of humanitarian efforts during times of natural disasters and other accidents," Modi wrote on Twitter. 
Meanwhile, an annual parade was held at the Carriappa Parade Ground in New Delhi as part of the showcase event of the Army Day.  
Army chief General Bipin Rawat reviewed the parade as well as presented gallantry and other awards to the personnel.