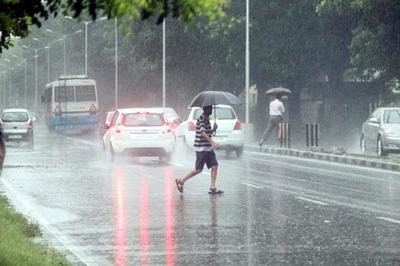 A day after torrential rain battered the city, Kolkatans today heaved a sigh of relief as the weather relented, with a deep depression that had triggered the downpour moving towards the western part of West Bengal.
Though rain and strong winds that lashed the city from Sunday night had eased, the Met department forecast one or two spells of rain in Kolkata and adjoining areas till tommorow.
The deep depression that lay centred near the city last night has moved towards the western districts causing heavy rain there.
It has now moved close to Purulia, regional Met director said G K Das said.
Asansol, Raniganj and Durgapur in the western part of the state have been experiencing heavy rain and squally winds since the morning, which have led trees being uprooted and waterlogging at some places.
"The deep depression is likely to weaken into a depression and then into a well-marked low pressure and continue to move in a west-northwestward direction towards the Jharkhand border," Das said.
The city was paralysed yesterday following the heavy downpour. The Met Department said 70.4 mm had been recorded in the last 24 hours till 8.30 am today.
The deep depression which now lay centred near Purulia will cause heavy rain and strong wind in Purulia, West Burdwan, Birbhum, Murshidabad, Malda and parts of Jharkhand and Bihar till tomorrow, Das said.
Squally wind, reaching a speed of up to 40-50 kmph gusting to 60 kmph, is very likely to prevail over Gangetic West Bengal and 3040 kmph gusting to 50 kmph is likely over adjoining areas of Jharkhand till this evening and gradually decrease thereafter, the Met department said in its forecast.
Flight, train and road transportation systems in the city were affected due to the heavy downpour.